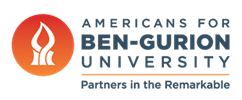 Israel21c's "The 48" Recognizes BGU Professors
April 18, 2023
Desert & Water Research, Medical Research, Research News, Sustainability & Climate Change, Uncategorized
Israel21c — Born in Italy, Aaron Fait is a professor of plant biochemistry at Ben-Gurion University's Blaustein Institutes for Desert Research. His work has a huge impact on desert agriculture, especially in light of global warming and climate change concerns.
In honor of his work, he was featured on Israel21c's "The 48" which recognizes 48 Israelis who are uniquely shaping Israel and the world. Fait is also an author of more than 100 scientific papers and winner of the Maks and Rochelle Etingin Chair Award for Desert Research.
Read more about Fait's mission on Israel21c >>
By exploring how leisure, media and technology use affect wellbeing in later life, Ben-Gurion University Prof. Galit Nimrod adds essential insights to the body of knowledge that aims to help meet the social and economic challenges of the world's rapidly aging population.
Prof. Nimrod was also featured on Israel21c's "The 48" from her countless hours and dedication to her research after a personal incident that allowed her to understand human frailty first-hand.