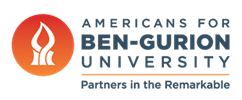 A New Way: Promoting Jewish-Arab Understanding
September 27, 2021
Israel21C — Tikva Bracha, 2021 recipient of BGU's William Berelson Prize for the Promotion of Jewish-Arab Understanding in Memory of Yitzhak Rabin, founded A New Way twenty years ago.
Her aim was to create deep-rooted and sustainable change in the relationships between Israel's Arab and Jewish citizens, starting from school children and branching out to their parents, their educators, and to their communities.
"Tikva saw that Jews and Arabs can connect without hate. She believed that the quality of relations between these two groups will largely determine the face of society and the future of the State of Israel," says A New Way CEO Erez Bar.
Recently, Avital Elyakim's 10th-grade daughter prepared for her matriculation exam in civics in an unusual way: She and her classmates in a Jewish high school in Tel Aviv had study and project sessions with peers from a high school in the Israeli Arab city of Taibeh.
Parents were invited to the final meeting of the year, where facilitators divided the parents and children into small discussion groups.
"The general feeling was one of closeness and cooperation. One of my daughter's friends had been hesitant to participate, and her parent was in my group. I saw the difference, the change in her because of the personal encounter," Elyakim tells ISRAEL21c.
When a marketing position opened at A New Way the following year, Elyakim left the high-tech company where she'd worked for 11 years.
She started last July, soon after A New Way founder Tikva Bracha won the BGU prize.
"[A New Way] started in 1998 as a group of social activists and academics talking about Arab-Jewish relations in Israel, how the future would look and how they could play a role in shaping it. For almost two years it was more like a think tank."
But then came the Second Intifada, an Arab uprising marked by deadly terror attacks for more than four years.
"Tikva started moving the group from talking to doing," says Bar. "She went to [the Arab municipality of] Kfar Kassem to start meeting people, especially in schools. Everything began there."
A New Way's experiential encounters promote tolerance and understanding through drama, sports, music, discussions and volunteering activities led by 25 trained facilitators from diverse backgrounds.
Supported by the Israeli Ministry of Education and municipalities, A New Way serves an average of 5,000 participants every year in 40 municipalities.