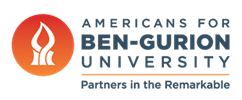 WearSheva! Hackathon Competition Held at BGU
December 4, 2014
Business & Management, Robotics & High-Tech
The Jerusalem Post — A marathon took place last week on BGU's Marcus Family Campus in Beer-Sheva, but probably not the kind you're imagining.
This marathon involved computer programmers, software developers, graphic designers and other "high-techies" who had gathered to come up with new ideas for wearable technology products. The marathon lasted 28 hours and incorporated new innovative technologies such as Android Wear, Google Glass and Cardboard.
The WearSheva! Hackathon was held at BGU and was organized by the Google Developers Group Beer-Sheva (GDG). GDG was founded two and a half years ago by Yossi Elkrief and Leonid Olevsky, who still manage it today along with BGU's Bengis Center for Entrepreneurship and Hi-Tech Management.
GDG Beer-Sheva is part of a wider project organized by Google around the world. In fact, 550 groups in 103 different countries are currently participating in this project.
The Hackathon competition, which was open to the public, attracted 210 developers and designers who were split up into 17 groups and instructed to come up with a new, innovative wearable technology product.
Some examples of product ideas developed included a cross-platform solution to manage classes with video presentations for lecturers and students; a wearable wireless product to help friends find their friends at a party; and a real-time language translation device.
At the end of the hackathon, each team presented a five-minute pitch about its final product to the judges, and then the top teams were presented with awards.