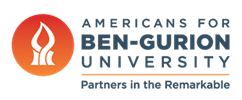 Reuters Spotlights BGU Goldfish Story That's Gone Viral
January 10, 2022
Reuters —Goldfish are capable of navigating on land, Israeli researchers have found, after training fish to drive.
The team at BGU developed an FOV – a fish-operated vehicle. The robotic car is fitted with lidar, a remote sensing technology that uses pulsed laser light to collect data on the vehicle's ground location and the fish's whereabouts inside a mounted water tank.
A computer, camera, electric motors and omni-wheels give the fish control of the vehicle.
Showing that a fish has the cognitive capability to navigate outside its natural environment of water can expand scientific knowledge of animals' essential navigation skills.
"We humans think of ourselves as very special and many think of fish as primitive but this is not correct," said Segev. "There are other very important and very smart creatures."
This story has also been covered in numerous other outlets and publications, including: