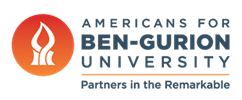 Randi Zuckerberg Shares Insights at BGU's eCommerce Launch
December 4, 2020
BGU Radio — BGU's entrepreneurship center, Yazamut 360, recently held a launch of the world's first academic eCommerce accelerator to train students to establish and operate an Amazon store. Randi Zuckerberg, the keynote speaker at the event, is founder and CEO at Zuckerberg Media and former director of market development and spokesperson at Facebook.
Through Zuckerberg Media, she manages a number of funds including Surround Ventures, which is dedicated to fueling innovation in Israel and connecting Israeli innovators to global capital, business and consumer markets. Prior to the event, Zuckerberg said, "Harnessing Israeli innovation will be key to shaping the entire e-commerce landscape on a global scale. Our team is committed to deepening our relationship with Ben-Gurion University."
In this podcast, Zuckerberg shares her insights with BGU Radio. Her fascinating Q&A discussion with Dana Gavish-Fridman, the head of entrepreneurship at BGU, ranges from Zuckerberg discussing her career path, to women in the workforce, to the wide-ranging definition of entrepreneurship.
While answering questions about e-commerce, Randi Zuckerberg remarks, "Now every business is truly a global business."