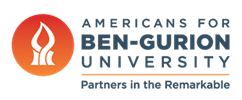 Negev Wines May Represent the Future of Viticulture
April 20, 2020
Desert & Water Research, Negev Development & Community Programs
By Lindsay Fendt, a 2019 Americans for Ben-Gurion University Murray Fromson Journalism Fellow
Smithsonian Magazine — When the Israeli winemaker Eran Raz decided to start his own vineyard, he didn't look to the established wine regions in the country's verdant hills. Instead, he was one of a small, intrepid group of vintners who acquired patches of barren desert in Israel's Negev region.
Here, rainfall averages 10 or 11 inches each year and temperatures frequently hover near 100 degrees. "They say grapes need to suffer to make good wine," says Raz. "Here that is no problem."
More than a decade later, the grapes at his Nana Estate Winery seem unaware of their suffering. The vineyard is a green oasis among waves of dusty brown desert. Today, Nana is just one of 30-some farms and vineyards in the desert between the Negev's main city, Beer-Sheva, and the mid-sized mountain town of Mitzpe Ramon.
The region now pulls in a steady stream of tourists who can sample traditional varieties like chardonnays and malbecs at destinations ranging from old-school kibbutzes to built-up wineries like Desert Estate Carmey Avdat.
Technologies developed in the Negev's extreme growing conditions are drawing attention from traditional winemaking regions, which have been coping with higher temperatures and less rainfall than in years past.
In 2019, wine production in Italy and France fell 15 percent, and in Spain it dropped 24 percent. The International Organization of Vine and Wine attributes those declines to changes in the climate.
In the northeastern Italian region of Friuli Venezia Giulia, for instance, growers have spent centuries producing coveted white wines from grapes fed by abundant rain and local rivers. But because of rising temperatures, the grape harvest in the region is 10 days earlier than it was two decades ago, says Prof. Enrico Peterlunger, a viticulture professor at the University of Udine in Friuli.
Rain patterns have changed, too, becoming more concentrated; heavy rains briefly douse crops, which are left dry for longer stretches than before. Israeli winegrowers "show our way ahead," Prof. Peterlunger says. "This is the destiny of viticulture in Europe."
One of Prof. Peterlunger's research partners is an Italian-born biochemist named Prof. Aaron Fait, a researcher at BGU's French Associates Institute for Agriculture and Biotechnology of Drylands at its Jacob Blaustein Institutes for Desert Research. Prof. Fait runs an experimental vineyard just up the road from Nana winery and is working to develop approaches that might one day benefit Europe's winemakers.
Showing off his vineyard in the June afternoon sun, Prof. Fait wore a wide-brimmed leather hat to shield his face from the harsh light. His grapes, he pointed out, have a similar setup to protect them: a special trellising system he designed so leaves grow over the fruit, shading them.
Prof. Fait and his students are also working on grafting wine grapes onto vines that can tolerate higher levels of saline than conventional varieties can. The goal is to develop grapes that are able to flourish on the brackish local groundwater, which contains salt from the Mediterranean Sea.
Prof. Fait's specialty as a plant molecular biologist drives his insights into terroir. The French word literally means earth or soil, but for wine experts—who speak the term with an almost mystical reverence—terroir refers to the way factors like climate and topography shape the taste of the resulting wine.
"The biochemical complexity is what makes the value of the wine on the market," he says. "It's not like a tomato or a table grape. With a wine grape, it's really an amazing asset of the chemicals that together create the sensations when you drink the wine."
The Negev is uniquely suited to demystifying the elements of terroir and perhaps learning how to adjust them for a changing climate. The rocky desert lacks nutrients and other necessities, so growers must enrich the soil one ingredient at a time. That allows scientists to observe the impacts of individual variables, seeing how they influence the growth of the grapes and the taste of the resulting wine.
Prof. Fait envisions creating a sort of manual for each grape variety, a playbook with the exact inputs that every type of grape needs to create perfect wine. "Nowhere in the world can you use the field as a true laboratory like we use it in the Negev Desert," says Fait. "Everything can be shaped and controlled for the good of your experiment."