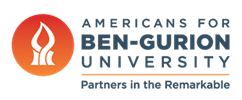 BGU President & A4BGU CEO Selected For Top 50 JPost List
September 18, 2023
The Jerusalem Post — Ben-Gurion University has evolved beyond being just an educational institution in the Negev; it has become a pioneering force shaping the future of sustainability in Israel and globally. BGU plays a pivotal role in the DesertTech community, a collaborative initiative with the Israeli Innovation Institute and the David and Laura Merage Foundation, that has hosted and trained leaders from Africa and worldwide. This partnership focuses on advancing technologies that enable humanity to thrive in arid desert environments while using its resources efficiently. The Jacob Blaustein Institutes for Desert Research, part of BGU, offer comprehensive coursework covering water management, energy solutions, and ecology.
At the helm of BGU in Israel is President Prof. Daniel Chamovitz, whose visionary leadership has been instrumental in the university's transformation. In the United States, the driving force behind the Americans for Ben-Gurion movement is Doug Seserman, A4BGU CEO.
Doug Seserman, CEO of Americans for Ben-Gurion University (A4BGU), is a 21st century Zionist thought leader. In his role, he has helped rally support in the United States for one of Israel's most positive attributes – its beneficial global impact, as delivered through Ben-Gurion University. The Negev, a vast desert region covering 60% of Israel's territory but home to only 10% of its population, symbolizes Israel's innovative spirit, Seserman told The Jerusalem Post earlier this year.
Seserman believes that the future of Zionism lies in keeping the vision of Israel's founding father, David Ben-Gurion, alive: making the desert bloom. Seserman and A4BGU launched Ben-Gurion Day in the USA to celebrate Ben-Gurion's legacy. This year, it will be celebrated in November and serve as a reminder of the hope emanating from the Negev and Ben-Gurion University.