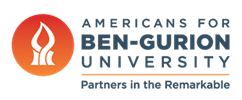 Israeli High-Tech Blooms in the Desert
July 12, 2016
Negev Development & Community Programs, Robotics & High-Tech
Globes — If until a couple of years ago Tel Aviv and the center of Israel was the beating heart of the "Start-Up Nation," this situation is now changing.
The Israeli economy's growth engine is steadily moving southwards. Beer-Sheva's Advanced Technologies Park (ATP), adjacent to Ben-Gurion University's Marcus Family Campus, is becoming a hub of entrepreneurship and technological innovation.
The ATP was developed through the joint effort of the State of Israel, the Beer-Sheva municipality, BGU, and KUD International: a consortium of U.S. and Japanese investors.
"Anyone who said three years ago that 1,500 engineers and high-tech workers would come to work every day at the Advanced Technologies Park in Beer-Sheva would have been thought to be hallucinating. Yet today we can say that the park is projected to house 10,000 high-tech workers within the next few years. This is a result of joint vision and complicated and determined work by the partners to the task," says Uzi Zwebner, one of the ATP's founders.
Beer-Sheva's accelerated development as a high-tech capital is likely to gain additional momentum from the move of the IDF's technological units to a base near the ATP.
"There is a one-time opportunity here that perhaps exists nowhere else in the world," says Zwebner.
"It brings together top technology companies with the IDF's computing units, and of course, Ben-Gurion University of the Negev, an academic institution with first rate researchers and science that has taken upon itself to be a real partner in turning the Negev into a leading science and technology center not just in Israel but in the world."