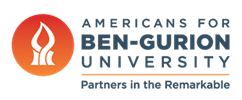 BGU Event Marks 30 Year Anniversary of Russia-Israel Ties
November 19, 2021
i24NEWS–Anatoly Viktorov, Russia's ambassador to Israel, participated in an event at BGU to mark the 30 year anniversary of diplomatic ties between Israel and Russia.
"The relations between our countries, they stood the test of time," the diplomat announced.
He additionally noted that the millions of Russian immigrants who flock to Israel each year created a "life bridge" between the two countries.
Watch his i24NEWS interview below.