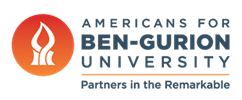 BGU's "She Space" Program Wins IAF Award
November 16, 2021
Leadership, Awards & Events, Press Releases
A BGU educational project entitled "She Space," which encourages girls to be involved in science, technology, engineering, arts, and mathematics (STEAM) studies has received an international excellence award. The International Astronautical Federation bestowed its annual Excellence in 3G Diversity Award at the 72nd International Astronautical Congress (IAC) which took place in Dubai at the end of October.
Dr. Shimrit Maman, director of BGU's Earth and Planetary Image Facility (EPIF), and founder of the program at BGU, and Dr. Lonia Friedlander, academic director of She Space, accepted the award on behalf of the program.
"In our pursuit of excellence here at BGU, we want to nurture the future generation of scientists, especially women, during their formative high school years. Congratulations to Dr. Maman and Dr. Friedlander and the entire international She Space and EPIF team on this worthy international recognition of their success and hard work," says BGU President Prof. Daniel Chamovitz.
The Excellence in 3G Diversity Award is intended to recognize International Astronautical Federation organizations and/or individual teams/projects within IAF member organizations worldwide for outstanding contributions to the fostering of "3G" (Geography, Generation, Gender) Diversity within the space sector. The Award is intended as an annual award but is given only when nominations of exceptional merit are received.
She Space is a first-of-its-kind educational space science project for the development of satellite imaging research applications and was built to inspire young girls to study science, technology, engineering, arts, and mathematics (STEAM) subjects. The basic premise of the program is that exposure to advanced scientific disciplines, especially in an active research context, encourages young women to continue studying science throughout their educational careers. She Space uses exposure to remote sensing to push high school-age girls outside of their comfort zones and help them learn about STEAM subjects without preconceptions or existing stereotypes.
"We at Americans for Ben-Gurion University believe that from the U.S. to Israel, it is critical for us to empower and inspire high school women who are interested in going into STEAM," says Doug Seserman, chief executive officer, Americans for Ben-Gurion University. "We congratulate the entire She Space team and participants on receiving this well-deserved award. We are proud to partner with Ben-Gurion University in promoting the advancement of women in academia."
The project was created through a unique collaboration between the University and Beit Yatziv, and the Israel Space Agency in the Ministry of Science and Technology. The project began in 2018 and takes place in eight different countries. Each group of girls deals with a different research topic connected to the relevant environmental issue in the country they live. Each group uses a local satellite to carry out their research and an international research group is established which compares local and global results and integrates the personal project results into the understanding of the climate processes affecting us all. The girls learn how to use advanced research tools, computer programs and lab techniques.
"By mentoring female students from underrepresented communities in and around Beer-Sheva who are interested in STEAM subjects, we aim to expand these students' horizons and help them achieve success," says Dr. Friedlander. "I'm gratified that our work at She Space is being recognized through IAF's prestigious award."
"It is our collective responsibility, regardless of age, gender or geographical position, to act in collaboration whilst using all the available space technologies to cope with climate change. This unique program allows girls to become exposed to the frontline of space research and technology and to hold cross border social and research activities. I am proud to be part of the project team and proud of the award we received," Dr. Maman says.
ABOUT AMERICANS FOR BEN-GURION UNIVERSITY
By supporting a world-class academic institution that not only nurtures the Negev, but also shares its expertise locally and globally, Americans for Ben-Gurion University engages a community of Americans who are committed to improving the world. David Ben-Gurion envisioned that Israel's future would be forged in the Negev. The cutting-edge research carried out at Ben-Gurion University drives that vision by sustaining a desert Silicon Valley, with the "Stanford of the Negev" at its center. The Americans for Ben-Gurion University movement supports a 21st century unifying vision for Israel by rallying around BGU's remarkable work and role as an apolitical beacon of light in the Negev desert.
About Ben-Gurion University of the Negev
Ben-Gurion University of the Negev embraces the endless potential we have as individuals and as a commonality to adapt and to thrive in changing environments. Inspired by our location in the desert, we aim to discover, to create, and to develop solutions to dynamic challenges, to pose questions that have yet to be asked, and to push beyond the boundaries of the commonly accepted and possible.
We are proud to be a central force for inclusion, diversity and innovation in Israel, and we strive to extend the Negev's potential and our entrepreneurial spirit throughout the world. For example, the multi-disciplinary School for Sustainability and Climate Change at BGU leverages over 50 years of expertise on living and thriving in the desert into scalable solutions for people everywhere.
BGU at a glance:  
20,000 students | 800 senior faculty | 3 campuses | 6 faculties: humanities & social sciences, health sciences, engineering sciences, natural sciences, business & management, and desert research.
Media Contact:
Brian Sherry
Stern Strategy Group
908-325-3860