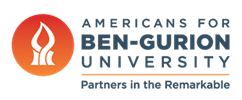 BGU's Dr. Menny Shalom Named Blavatnik Award Laureate
February 8, 2022
New York, February 8, 2022 – Americans for Ben-Gurion University (A4BGU), the U.S. partners of Israel's Ben-Gurion University of the Negev (BGU), congratulates BGU researcher Dr. Menny Shalom, PhD and professor of Inorganic & Solid-State Chemistry, for his recognition as a Blavatnik Awards for Young Scientists in Israel Laureate. The distinction, awarded by the Blavatnik Family Foundation, the New York Academy of Sciences and the Israel Academy of Sciences and Humanities, honors Dr. Shalom for his research in developing new types of advanced materials for alternative energy sources. His work builds on BGU's widely recognized contributions toward climate change adaptation and mitigation.
The Blavatnik awards, bestowed on scientists 42 years old and younger, honor and highlight young Israelis working in Life Sciences, Chemistry and Physical Sciences & Engineering. Dr. Shalom's work focuses on renewable and sustainable energy production at a time of a mounting climate crisis that demands more abundant and inexpensive sources of renewable energy. Focusing on making renewables more scalable and affordable, he developed chemically stable materials with applications in photoelectrochemical water splitting, hydrogen and oxygen, batteries and photocatalysts.
"I am grateful to the Blavatnik Family Foundation for this honor," said Dr. Shalom in a statement. "I want to thank all my former and current group members and my mentors for walking with me along this exciting scientific road. I have learned a lot from each one of them."
Doug Seserman, CEO of Americans for Ben-Gurion University, stated that "Dr. Shalom's recognition as a Blavatnik Award Laureate highlights not just his own groundbreaking work in renewable energy, but the entire scientific ecosystem present in Israel's Negev and what it offers to the country and the wider world. Through scientific breakthroughs like Dr. Shalom's, Israelis continue to make this once-inhospitable desert region bloom while proving it to be what David Ben-Gurion prophesized: Israel's future and a beacon for the rest of the planet. We at A4BGU are proud to bring greater recognition to the incredible innovations coming from this part of the world." BGU's overall contributions to addressing climate change issues will be the subject of A4BGU's upcoming free virtual event, "Celebrating the Remarkable 2," on May 1, 2022.
The official ceremony for the 2022 Blavatnik Awards for Young Scientist in Israel will be held at the Peres Center for Peace & Innovation in Tel Aviv-Jaffa on June 8, 2022. This year's Laureates will each receive US $100,000, as well as join the international Blavatnik Science Scholars community, which by year's end will include over 400 young scientists from countries around the world. The Laureates will be invited to attend the annual Blavatnik Science Symposium in New York City hosted by the New York Academy of Sciences, "where past and present Blavatnik Awards honorees from around the world come together to share new ideas and forge collaborations for novel, cross-disciplinary research," according to an official release issued by the awarding organizations.
ABOUT AMERICANS FOR BEN-GURION UNIVERSITY
Americans for Ben-Gurion University plays a vital role in maintaining David Ben-Gurion's vision of an "Oxford in the Negev." By supporting a world-class academic institution that not only nurtures the Negev, but also shares its expertise locally and globally, Americans for Ben-Gurion University engages a community of Americans who are committed to improving the world. The Americans for Ben-Gurion University movement supports a 21st century unifying vision for Israel by rallying around BGU's remarkable work and role as an apolitical beacon of light in the Negev desert.
Media Contact
Brian Sherry
Stern Strategy Group
908-325-3860
[email protected]