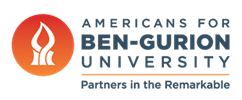 First IDF Technology Campus Building Opens
June 28, 2019
Negev Development & Community Programs
Ben-Gurion University commemorated the opening of the first building on the new IDF Technology Campus in Beer-Sheva.
The ribbon was cut by BGU President Prof. Daniel Chamovitz; Prof. Dan Blumberg, vice president of regional development; Ruvik Danilovich, mayor of Beer-Sheva; Brig. Gen. (res.) Itzik Cohen, head of the Ministry of Defense Southern Relocation Administration; and David Bareket, BGU director general .
The establishment of the IDF Technology Campus adjacent to BGU and the Advanced Technologies Park (ATP) represents the third element in the cyber-technology "ecosystem" being realized in Beer-Sheva.
"Today will go down as a landmark in the history of Israel," said Mayor Danilovich. "Our country has begun implementing a dramatic decision, one that will turn the city of Beer-Sheva into an international center. Knowledge, groundbreaking technology and the best human capital in the world all come together in the Negev."
The two-floor, 4,736-square-foot building will serve as the administrative center, which will oversee the construction of the IDF Technology Campus, eventually projected to occupy approximately 161,450 square feet (15,000 square meters).
"The future growth and development of Ben-Gurion University of the Negev into the North Campus is intimately tied to our growing relationship with the nascent IDF technology and intelligence bases springing up in and around Beer-Sheva," said President Prof. Chamovitz.
The IDF Technology Campus will include an advanced eco-friendly energy and technology infrastructure. It will bridge the relationship between BGU, the private sector and the IDF.
"The dedication of the first building of the IDF's new tech campus is the harbinger of great developments that will bring thousands of outstanding soldiers to this base, many of whom will also complete degrees at BGU in parallel with their service," said Prof. Chamovitz.
BGU will construct dormitories, classroom buildings and other vital facilities as well as hire additional academic and administrative staff, all in order to absorb more students in technology-related subjects.
The Ministry of Defense and BGU expect that up to 70 percent of the 1,000 students who undertake academic studies while also serving in the IDF intelligence and computer corps, as well as their spouses, will apply for undergraduate and graduate degree programs at BGU.
"I am looking forward to watching the rest of the army's tech campus grow, and of course to overseeing BGU's collaboration with the military as the units themselves move south," said Prof. Chamovitz.