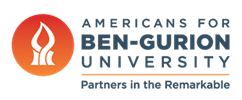 Dr. Ruth's New BGU Scholarship and Honorary Degree
May 4, 2021 - Summarized from Main Line Media News
Main Line Media News – If you are planning to re-brand your organization, what better way to do it than to tie it to a special virtual ceremony which involves the world-famous sex therapist Dr. Ruth K. Westheimer!
Ben-Gurion University of the Negev (BGU) did it last week by conferring an honorary doctorate – the first Israeli university to do so – on Dr. Ruth, while the American Associates of Ben-Gurion University of the Negev (AABGU) also announced its name-change to "Americans for Ben-Gurion University."
Connie and Sam Katz are long-time co-chairs of the newly re-named alumni and friends association in the Mid-Atlantic region. You may know them from prominent in Philadelphia-region events. Sam Katz ran for Mayor of Philadelphia, and he has produced a significant body of films depicting the history of Philadelphia and its various ethnic communities.
"From a tiny school to the jewel of the Negev, the BGU campus unites diverse communities across Israel and the Middle East in a welcoming, warm and inspirational way. To witness its rapid growth is to see the future of Israel," said Connie Katz.
"While we've never attended classes at the University, we have visited a few times to tour, meet students and faculty and attend a Board of Governors meeting. Sam always made a point to visit when in Israel on Federation business in Netivot, Philadelphia's sister city. Netivot is also in the Negev, about a 30-minute drive to the University.
"About 20 years ago," she continued, "our friend, Sam Greenblatt, introduced us to the Philadelphia Chapter of the American Friends of Ben-Gurion University. We were honored at their annual tribute event that year and had such a heartwarming experience with its members and with its Executive Director, Claire Winick, that we've stayed active ever since.
It makes us feel good about supporting a University that so reflects the pioneering spirit of Israel.
My former sister-in-law Eileen Ingerman and her late husband Ira Ingerman were involved with BGU for years, ever since Ira and his partner Stanley Ginsburg donated $3 million to create a school at BGU for American students to study there in Israel. The Ginsburg-Ingerman Overseas Student Program is thriving in the Negev.
The virtual honorary doctorate ceremony for Dr. Ruth was exciting. Sam Katz told me, "BGU is an extraordinary university and is leading the development of the Negev which holds a key to the future of Israel. "
Dr. Ruth was excited as she sat in her Manhattan apartment, accompanied by the BGU President Prof. Daniel Chamovitz, who is a Pennsylvania native, by the way.  She is establishing two scholarships at BGU in psychology which will be funded each year in perpetuity.
The officers of BGU are hoping to host Dr. Ruth on campus in the Negev next year, after COVID-19 is gone. And Dr. Ruth is looking forward to giving out her named psychology scholarships in person as well.