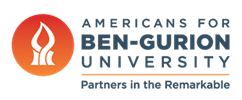 Can Studying DNA Like Language Lead to New Breakthroughs?
January 25, 2022
The Jerusalem Post —  Dr. Barak Akabayov, a computational biochemist from BGU's Department of Chemistry at the Faculty of Natural Sciences and the Data Science Research Center studied DNA replication from a linguistic perspective, publishing his team's findings in the peer-reviewed journal Nucleic Acids Research in October. The study was funded by the Israel Science Foundation.
DNA is represented by groups of letters, so Akabayov, as well as Adam Soffer, Sarah E. Eisdorfer, Morya Ifrach, Stefan Ilic, Ariel Afek, Hallel Shussheim and Dr. Dan Vilenchik of the School of Computer and Electrical Engineering, aimed to learn new information by studying the letter sequences linguistically.
The team's findings could help researchers develop new drugs using this novel approach. "We were successful in developing a multi-disciplinary approach that is innovative on a number of levels," Akabayov says.
"Thanks to the tool we developed, we can control specific interactions between DNA and proteins, and identify those DNA sequences that are important to duplicate cleanly before the cell splits."
"I believe we can use this approach to plan innovative new drugs in the future as needed," he predicts.