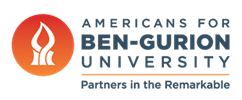 BGU Finds Genetic Link Between Aging Brain and Cancer
June 17, 2021 - Summarized from The Jerusalem Post
Medical Research, Natural Sciences, Research News
The Jerusalem Post –  Researchers from Ben-Gurion University of the Negev (BGU) have identified a gene responsible for activating glioblastoma, a type of brain cancer, which is also partly responsible for aging in our brain.
The study, led by Dr. Barak Rotblat of BGU's Department of Life Sciences in the Faculty of Natural Sciences and of the National Institute for Biotechnology in the Negev (NIBN), was published in the peer-reviewed journal Aging late last week. The same genes that make glioblastoma resistant to chemotherapy are activated in an aging brain, according to the research. And these genes were unknown before the study.
"Studying cancer teaches us about aging and vice versa," Rotblat said.
His research has focused on a new class of genes coding for long noncoding RNA. "For the past few years, we have been studying one of these genes, TP73-AS1, and found that it is highly active in both pediatric (medulloblastoma) and adult (glioblastoma) brain cancers," explained Rotblat.
"Importantly, not only is this gene highly active in brain cancer, but it also contributes to the aggressiveness of the disease."