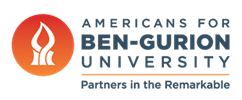 An Oasis for People—and Goats—in the Negev
August 15, 2019
By Mala Blomquist, a 2019 Murray Fromson Journalism Fellow
Arizona Jewish Life – Located along road 40 in the direction of Sde Boker is an unassuming cluster of structures rising from the Negev desert. The Kornmehl Goat Cheese Farm and Restaurant, owned by Anat and Daniel Kornmehl, was started in 1997, when the owners decided to settle in the Negev after unsuccessfully navigating the red tape for a Jerusalem site.
Since the business is a free-standing establishment, not connected with any kibbutz or moshav, the owners have had to deal with the vast amount of wastewater that a dairy farm produces on its own. The couple contacted Prof. Amit Gross, director of Ben-Gurion University's Zuckerberg Institute for Water Research, and an expert in the efficient use of marginal water, remediation techniques and the environmental risks associated with contaminated water resources.
Along with Ph.D. and master's students, he has worked on a wetland system to filter the gray water. Today, all the wastewater from the farm is stored in black tanks. The quantity varies depending on the number of visitors to the farm and whether the Kornmehls worked in the dairy that day.
"The liquid from the tanks comes into the system that is [located under] terraced flower beds," says Anat. "The system is amazing. It collects all the water, and it is filtered through big and small stones where the bacteria is reworked. When it comes out of the system, it is good enough for irrigation."
The process removes approximately 80% of the impurities from the water. The Kornmehls cannot use the water for vegetables, but they can use it on flowers, trees, shrubs, and plants that would use up "good" water otherwise. In an area that receives less than four inches of rain a year, this system makes a big difference.
Visitors can enjoy the views of the flower beds along with sweeping vistas of the desert, including remnants of terraces dating back to the Middle Bronze period (3,000-4,000 BCE).
The views just add to the ambiance of the restaurant. Diners are greeted by a delightful staff who usher you in to sit on low, colorful divans and dine on cheese platters, homemade bread, pizza, salads, and more.
Makes a weary traveler glad that Anat and Daniel never gave up on their dream!