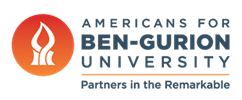 The Future of Wine: Very, Very Dry
October 4, 2019
The New York Times visited the Negev region recently to learn about dryland viticulture and agriculture. Journalist Amy Yee interviewed Profs. Aaron Fait and Naftali Lazarovitch of BGU's Jacob Blaustein Institutes for Desert Research. Winemakers and vineyard owners in France, Italy, Slovenia, and other parts of Europe are seeking their counsel and expertise.
Excerpt — "Climate is becoming more and more unpredictable," said Aaron Fait, a biochemistry professor at BGU's Jacob Blaustein Institutes for Desert Research. "The desert model is a way to study how climate change will affect wine worldwide."
The techniques being tested [in the Negev] on 30 varieties of grapes include the use of nets that provide shade, trellises that coax vines to grow in formations that limit sun exposure, sensors that measure soil humidity, and thermal cameras that track how much sunlight grapes and leaves absorb.
The work is gaining increased interest from European winemakers as summer heat waves and other climate shifts affect their vines.