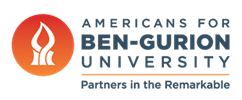 Academic Pilots
May 14, 2010
Upon concluding the Israeli Air Force pilot training course, which is the longest course in the IDF, every graduate has the option of receiving a bachelor's degree.
Today, Ben- Gurion University of the Negev in Beer-Sheva, which over the years has developed a special relationship with the neighboring Air Force base called Hatzerim, is responsible for the pilots' academic studies.
Every year, the University's international board of governors gathers in order to review the southern institution's academic progress. This year the group won a special tour of the Hatzerim base, which houses the IAF Flight School and sends pilot cadets to study at the University.
The guests were received by Col. Tomer, commander of the IAF Flight School. According to him, the relationship between the base and the University is one of a kind. In his opinion, the institution's investment in pilot cadets is very important for several reasons. The IAF, he says, must have first-class person-power and is able to choose first among IDF recruits.
"We do not only check flying abilities but also the quality of the person. The pilot has to be smart, educated and respectful to be considered an air force officer. He must be not only a good flyer, but also a good warrior, a good academic and first and foremost a person of good character."
After explaining the pilots training, Colonel Tomer focused on his academic studies at the University. He was among the first group of cadets to enroll in the BGU degree program six years ago.
"Ben-Gurion University is capable of being flexible with the constraints of the pilot training course. They pay attention to the students' difficulties. In fact, the joint effort between the IAF Flight School and the University is the fulfillment of Ben-Gurion's dream of developing the Negev."
The members of the board of governors were given a special tour of a search and rescue helicopter squadron and a fighter plane squadron followed by a personal discussion with pilot cadets and a close-up explanation of the different aircraft.
While the group looked at the leading military aircraft, another commander who also took part in the academic program at Ben-Gurion University described the satisfaction that pilot cadets derive from the program and the use they make of their bachelor's degrees.
"About 10 percent remain in the Air Force even after completing the years they are obligated to serve [nine], but the others go on to work in the civil flight or high-tech industries, or as doctors, lawyers and so on. As citizens, pilots are required to fulfill reserve duty once a week or every two weeks in order to maintain their flight competence."
Hillary Loebner, a South African resident and member of board of governors, was very impressed by the visit. "The program is wonderful. It is really impressive to combine such an intensive course with a degree. I admire these young men and women. They really show that the person in the cockpit is the most important, and that they need to have a great spirit in order to do what they do."