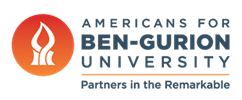 After promising myself I'd get to Israel by 26, I pulled it off at 27
May 14, 2010
Medical Research, Social Sciences & Humanities
Back in October 2008, when the notion of hitting 27 seemed quite distant, I wrote a column in j. to hold myself accountable to sign up, before it was too late, for a free trip to Israel through  Birthright, the organization responsible for sending thousands of Jewish young adults to the Holy Land.
It was my Rosh Hashanah resolution, the one I swore I'd keep, mostly because it was the first one I ever proposed. Then, out of nowhere, bam! I was 27 and no longer eligible to spend 10 blissful days exploring Israel with 18- to 26-year-olds.
Of course I had regrets. How could I have let this wonderful opportunity pass me by? Well, don't pity me just yet. In March, I got my chance to visit Israel for the first time.
Ben-Gurion University of the Negev, a major center for teaching and research with some 19,000 students in Israel's southern desert region, invited journalists from across the United States to visit its campuses, interact with professors, and report on their latest studies and innovations.
The fifth annual Murray Fromson Media Mission to Israel was sponsored by American Associates, Ben-Gurion University. It boasted an itinerary that was hard to refuse: seven full days of reporting, coupled with sightseeing and the much-talked-about food. I was sold.
Plus I would be traveling throughout Israel with fellow AP style-reading, grammar-obsessed, have-to-get-the-scoop-first journalists writing for AOL News, the New York Times, NPR and the Jewish Journal of Greater Los Angeles, to name a few.
I arrived in Tel Aviv on March 5, energized and exhausted all at the same time. Was there time to adjust to the 10-hour time difference? Uh, no. We were shuttled from Ben-Gurion Airport to our hotel in Jerusalem, and the whirlwind excursion began.
I say whirlwind because, by the end of my experience, I had filled all the pages of a notebook (both sides) and taken enough photos to put my memory card at capacity. And while there was so much to take in — the humbling Western Wall, the beauty of hearing Hebrew, the vibrant colors of the food — the people I met truly made my trip.
Two days in, our group was having dinner with American students from the BGU Medical School for International Health. We, the journalists, introduced ourselves, giving our names and publications. When I mentioned j. and our location in San Francisco, most eyes turned to one student — Ori Benhamou.
Born in the shadow of Stanford University and raised in Saratoga, Benhamou left the South Bay (where his Israeli-born father, Eric Benhamou, is  a venture capitalist based in Palo Alto) to study first at Boston University, then University of Pennsylvania, and now BGU.
In 1993, he was the first to have a bar mitzvah with the Bar Yohai Sephardic Minyan in Sunnyvale, and he often stepped in as the 10th person for prayer at the synagogue his father helped launch. Now, Benhamou, said, membership is well into the hundreds.
Though he hasn't lived in the Bay Area since age 17, Benhamou, 29, said he misses California and still loves to come visit. An avid traveler, he bragged to me about the number of times he's flown out of Israel in the past year. "Ten," he said. "That's gotta be the most out of all my classmates."
Inspired years ago by an HIV-positive classmate at Saratoga High School, Benhamou wants to specialize in infectious diseases when he graduates from medical school. Post-residency, Benhamou has plans to travel with Doctors Without Borders to South America.
When he's not in the classroom or at Soroka University Medical Center (there's not much downtime, he admits), Benhamou's thinking about his next vacation: that Iron Man race he wants to compete in, or maybe a place where he can eat Mexican food.
"Anywhere specific?" I asked.
"Andale," he said, "right by Stanford."
His answer confirmed how long he's been away, as that location is now closed. But given his inclination for traveling, trying an alternative spot shouldn't be a problem.