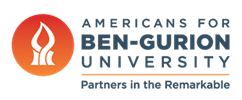 A Cyber Security Industry Blooms in the Negev
February 2, 2016
The Times of Israel — David Ben-Gurion famously said he wanted to make the Negev bloom.
Today, in the streets of Beer-Sheva, a city of 200,000, his dream is taking shape in a form he likely did not anticipate.
The city's Advanced Technologies Park (ATP)  is bringing talent – both domestic and foreign – in droves to the city once considered a mere way station on route to Tel Aviv or Jerusalem.
Already, only a few years after its coronation, 1,500 technicians, engineers and researchers are hard at work within the ATP's walls, many of whom were trained at Ben-Gurion University – part of a planned symbiosis between the University and the industrial park.
Israel Prime Minister Benjamin Netanyahu has spoken highly of the ATP, saying the close proximity between the complex and the University allows "a physical interaction between academia and industry, in Israel and abroad.
"They meet, they talk and they create together," he told the audience at this year's CyberTech conference in Tel Aviv.
The ATP is home to a dozen tech companies and startups that are part of CyberSpark, a national cyber ecosystem that is addressing Israel's unique cyber security needs. In a country that is among the most heavily targeted in the world by hostile hackers and cyber criminals, this is no small task.
Cyber security expert and chief technology officer of BGU's Cyber Security Research Center, Dudu Mimran, acknowledges that the fight against hackers is "an endless race," but thinks it is a race that can be won with Beer-Sheva at the helm.
"Cyber security has a very bright future," says Mimran, who also heads the Deutsche Telekom Innovation Laboratories at BGU, which is also housed at the ATP.
Read more on The Times of Israel website >>
View a video of U.S. Ambassador to Israel Daniel Shapiro at CyberTech 2016 addressing American high-tech companies >>