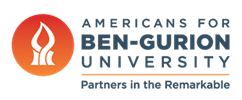 Toni Young Elected Americans for Ben-Gurion University President
September 9, 2016
Leadership, Awards & Events, Press Releases
Toni Young, formerly of Wilmington, Delaware and a new Manhattan resident, has been elected the next president of American Associates, Ben-Gurion University of the Negev (Americans for Ben-Gurion University) effective September 27, 2016.
Prior to her new role, Young served as first vice president on the Americans for Ben-Gurion University board of directors. In 2014, she and her late husband, Stuart B. Young, members of the Ben-Gurion University of the Negev (BGU) Negev Society, made a significant gift to the University to establish the Amos Oz Initiative for Literature and Culture.
Named in honor of Amos Oz: BGU professor emeritus, renowned author and longtime Arad resident, the multi-year initiative enriches the Negev community of Arad with literary and cultural activities. The initiative also provides a forum for discussion and learning with students and faculty, which helps strengthen and educate communities and development towns in southern Israel.
Young replaces New York real estate magnate Lloyd Goldman, who says, "It has been a great honor to serve as Americans for Ben-Gurion University's president these past four years. As I step down from this role, I know that the organization is in great hands. We are fortunate to have the leadership skills, enthusiasm and passion for the Negev and Ben-Gurion University that is embodied in Toni Young."
Before moving to New York this year, Young was the first woman president of the Jewish Federation of Delaware. There, she spearheaded Delaware's Partnership 2000 relationship with the town of Arad and its surrounding Tamar region. Young has served on the national boards of the Jewish Federations of North America (JFNA), the Jewish Agency for Israel and the American Jewish Joint Distribution Committee.
"I'm excited about this new challenge and look forward to building upon and expanding the initiatives that Lloyd Goldman and other former Americans for Ben-Gurion University presidents and board members have developed so successfully," says Young.
"I'm particularly thrilled to serve during the Ben-Gurion University of the Negev 2020 Vision 50th Anniversary Campaign. I plan to increase connections between the American community and BGU, and bring in new friends and supporters who understand the miracle we are creating in the Negev desert and how important BGU is to the success of Israel."
Toni Young is the author of Becoming American, Remaining Jewish: The Story of Wilmington; Delaware's First Jewish Community, 1879-1924 and The Grand Experience: A History of the Grand Opera House, and was a contributing author to Delaware and the Jews and Seventy-Five Years at the JCC.
She earned a master's degree in Spanish at Harvard University and graduated Phi Beta Kappa from Goucher College.
ABOUT AMERICANS FOR BEN-GURION UNIVERSITY
Americans for Ben-Gurion University plays a vital role in maintaining David Ben-Gurion's vision of an "Oxford in the Negev." By supporting a world-class academic institution that not only nurtures the Negev, but also shares its expertise locally and globally, Americans for Ben-Gurion University engages a community of Americans who are committed to improving the world. The Americans for Ben-Gurion University movement supports a 21st century unifying vision for Israel by rallying around BGU's remarkable work and role as an apolitical beacon of light in the Negev desert.
Media Contact:
Andrew Lavin
A. Lavin Communications
516-944-4486
[email protected]