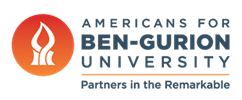 Staying Viable in Today's Digital Age
July 30, 2018
The American Society of Mechanical Engineers featured Prof. Hugo Guterman of BGU's Laboratory for Autonomous Robotics and his Ph.D. student Oded Yechiel in their Mechanical Engineering magazine.
By Kayt Sukel, a Fromson Fellow on the 2018 Murray Fromson Journalism Fellowship.
Mechanical Engineering – In today's digital age, can traditional manufacturing companies harness disruption before it engulfs them?
Prof. Guterman, who is currently working on an autonomous robotic chauffeur, says, ultimately, it's not a technology that is disruptive—it's the way that people end up using it. And that's important to remember.
"With all this data, we are entering the second industrial revolution," says Prof. Guterman. "There are already so many technologies being developed in universities and industries that have the power to disrupt companies, market and even society. But I don't know if we understand how they will do that yet."
Ph.D. student Oded Yechiel agrees. He suggests that digital disruption is more of an evolution than a revolution when it comes to changing physical industry.
"These markets are evolving as these new technologies become available," he explains. "But, to a certain extent, disruption is part of that evolution. There have always been companies that have been strong and then fell when a new technology came about. It's the nature of things.
"But if bigger companies can get past their bureaucracies and regulations, to work with small companies and also laboratories that can really think outside the box, there is always the possibility to move forward."
And in doing so, perhaps, those companies can become the next big disruption story.
Read the full article (PDF) from The American Society of Mechanical Engineers >>