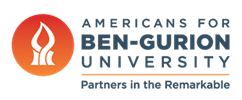 Save the Class of COVID-19
July 29, 2020
Negev Development & Community Programs
SOS: Support Our Students Coronavirus Assistance Fund
BGU students are facing significant economic hardship due to the COVID-19 pandemic. An estimated one out of five BGU students is at risk of delaying their studies due to financial duress, while 70% are facing an increased need for financial aid. BGU predicts a 25% increase in the dropout rate and a 30% decrease in enrollment without sufficient funding.
To address this need, the University has launched the SOS: Support Our Students Coronavirus Assistance Fund to help ensure students can continue their education. The worldwide effort seeks to raise $6 million, with American Associates, Ben-Gurion University of the Negev (Americans for Ben-Gurion University) taking the responsibility for raising 50% of the funds.
Israeli students attend college after their required army service. Most of BGU's students are working to support their education and families. Nearly all are self-funding and the pandemic has caused many of them to lose their jobs, putting their ongoing studies in jeopardy. Unemployment in Israel is above 26%.
Whether their major is engineering, medicine, or politics and government, many of BGU's 20,000 students are facing economic and emotional distress, which they discuss in a series of poignant videos. (click here to watch).
"In recent months, the far-reaching effects of the COVID-19 pandemic have had a profound impact on the world and have drastically altered the lives of current and prospective BGU students," says Americans for Ben-Gurion University Chief Executive Officer Doug Seserman. "We hope that with our SOS campaign we can save the Class of COVID-19."
"I want to be positive. I want to ensure that every student who wants to prove themselves – every student who thinks they have the ability – shall come to BGU and realize their potential," says BGU President Prof. Danny Chamovitz. "We have a responsibility to ensure that no one is left behind." Click here for video from the president.
"If students are forced to drop out of BGU for financial reasons, they may never finish their degrees and that would change their lives," says Toni Young, Americans for Ben-Gurion University president who is leading the volunteer campaign cabinet.
"I believe BGU graduates who have studied science as well as humanities, have interned at high-tech companies, and have volunteered in disadvantaged communities in Beer-Sheva, are the kind of people who will enrich Israel and the world. We must help them continue their studies."
Please partner with us by lending your support to BGU's SOS: Support Our Students Coronavirus Assistance Fund by October 15, when the fall semester begins.
$2,200 will provide financial aid to a master's degree student for one semester
$1,375 will fund one undergraduate financial aid package for an academic year
$540 provides a student with an internet package for one year
$250 will provide study materials and tutorials for an entire year
$180 will provide groceries for a family of four for one week
Click the button to
Checks can be made out to Americans for Ben-Gurion University and sent to: Americans for Ben-Gurion University, Attn: SOS, 1001 Avenue of the Americas, 19th Floor, New York, NY 10018.