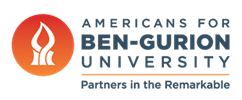 Meet BGU's President
September 10, 2020
Leadership, Awards & Events, Negev Development & Community Programs
The Jerusalem Post — How does a young boy who grows up as the only Jewish kid in a blue-collar mill town become BGU's seventh president?
BGU President Prof. Danny Chamovitz's life journey is filled with interesting twists and turns. He tells of his grandfather, who arrived in the U.S. from Eastern Europe at the end of the 19th century, and sold clothes from a cart. A generation later, Danny's father, a physician, founded Aliquippa's first hospital.
"I grew up as a classic schizophrenic American Jew," says Prof. Chamovitz. "During the week I was the all-American boy. On weekends, I went to synagogue and was a Young Judaea Zionist Youth Movement activist."
In his search for normalcy and identity, Prof. Chamovitz applied to be a biology major at Columbia University.
The fact that he was accepted because of geographic distribution has made him especially sensitive to giving people from underserved communities the chance to go to college.
However, before college, Prof. Chamovitz did a gap year in Israel with the Machon Youth Leadership Training program. It was while working on a tractor in a Negev alfalfa field on Kibbutz Ketura that he had his eureka moment.
"I saw that when we cut the alfalfa, it grows back, but when we cut wheat it doesn't," explains Prof. Chamovitz. "I thought if we could figure this out, we would be able to feed the entire world."
He made aliyah in 1984 and received his Ph.D. in genetics from The Hebrew University of Jerusalem, and completed his postdoctoral research at Yale University.
Despite a scientific career that has been characterized by novel and field-defining research – he was the first to clone a gene involved in the biosynthesis of beta-carotene – Prof. Chamovitz is personable, accessible and modest.
His book, "What a Plant Knows," has been published in 18 languages, was voted top 10 in Amazon, and is often referred to in discussions on plant senses and intelligence.
In January 2019, Prof. Chamovitz assumed the presidency of BGU, the only current American-born president of an Israeli university.
He is inspired by Ben-Gurion's dream to make the Negev bloom and feels that BGU is the most important university for the future of Israel.
"BGU and Soroka University Medical Center are the foundations for Beer-Sheva's growth as a vibrant metropolis," he says. "There is an innovation ecosystem here that combines academia, medicine and a high-tech innovation hub. Together, we are doing transformative research and developing technologies that are changing the world."
Coming full circle since his acceptance to college, Prof. Chamovitz is committed to making higher education accessible for young people from underserved communities.
At the same time, scholarship recipients are encouraged to give back, and volunteer with children, youth and seniors in Beer-Sheva's most underprivileged neighborhoods.
"Not accepting the way things are is in my DNA," he says. "I've always been excited by the unknown and this has led to some unexpected discoveries."
This is the spirit that Prof. Chamovitz hopes to nurture in Israel's next generation.