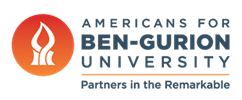 First Israeli Gets Regenerating Knee-Cartilage Implant
August 15, 2018
The Times of Israel – After repeated attempts to fix the worn-down cartilage in her knee, a 30-year-old woman in Jerusalem received an implant, called Agili-C™, made of aragonite, a form of calcium carbonate, which, if all goes well, will help to regenerate her cartilage and bone over time.
The implant was developed by the Israeli startup CartiHeal Ltd., which is a collaboration with BGU based on research at its Avram and Stella Goldstein-Goren Department of Biotechnology Engineering. Currently, the company is conducting a global clinical trial of its technology, with the hope of receiving approval from the U.S. Food and Drug Administration.
Some 400 patients in centers in Europe have already received the implants.
"Millions of patients are looking for a solution to the degeneration of knee cartilage," says Nir Altschuler, chief executive officer and founder of CartiHeal, and BGU alumnus. "We hope we can provide a breakthrough with our technology.
"Cartilage has very limited ability to be repaired," he continues. "Finding a solution for cartilage regeneration is one of the holy grails of medicine."
CartiHeal believes it has found the solution for people who have cartilage defects with or without mild to moderate knee osteoarthritis, a deterioration of cartilage and the underlying bone.
"The idea is to capture patients who are still active and to try to treat them before they reach the need for a knee replacement," says Altschuler, who recently moved to New Jersey with his family to supervise the multi-center clinical trial that is taking place in Israel, the U.S. and Europe.
For CartiHeal's implant, surgeons drill out the affected area of both cartilage and bone in a minimally invasive procedure, making sure to get to the bone marrow and the stem cells within the treated area. They then insert a cylindrical scaffold that fits into the opening like a plug, "just like a screw-anchor in a wall," explains Altschuler.
The startup is looking to develop the implants, which are suitable for all patients and do not require biopsies or special matching, into an off-the-shelf product for surgeons.
Nir Altschuler received a B.S.c in biotechnology engineering and an MBA from Ben-Gurion University of the Negev.