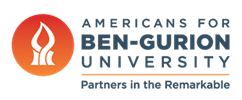 New Hope for Bone Repair and Targeted Drug Delivery
May 16, 2019
Times of Israel – The Israeli startup Bone Sci Bio Ltd. is incorporating a new peptide invented by Prof. Hanna Rapaport of the Avram and Stella Goldstein-Goren Department of Biotechnology Engineering at Ben-Gurion University of the Negev into a product that promotes the formation and repair of bone tissue.
The technology enables a "holistic approach" to bone treatment, says Yaron Rapaport, a BGU graduate and co-founder and chief executive officer of Bone Sci Bio. He estimated the bone substitute market at $4.5 billion.
The first application will be for the delivery of an antibiotic-loaded preparation for the treatment of peri-implantitis, a destructive inflammatory process that damages the hard tissue surrounding dental implants. The condition affects 30 percent of patients who receive dental implants within 10 years of implantation.
"While clinical studies are yet to be performed in order to gain an FDA approval, our breakthrough solution to peri-implantitis is much anticipated by dentists around the world, acknowledging that PeptOss addresses an unmet need and presents a clear competitive edge," says Yaron Rapaport.
According to the company, PeptOss also allows the controlled delivery of drugs, such as antibiotics or chemotherapy, directly to the bone, for various orthopedic and dental applications.
Future applications may include strengthening osteoporotic bones to prevent high-risk hip fractures, as well as loading PeptOss with chemotherapeutic drugs for the treatment of bone cancer.
The technology was patented by BGN Technologies, the technology transfer company of Ben-Gurion University.