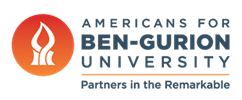 JPost: Dr. Mike to Host Celebrating the Remarkable 3
March 1, 2023
Leadership, Awards & Events, Medical Research
The Jerusalem Post — Mike Varshavski, the celebrity physician known as Dr. Mike, is slated to host an upcoming Americans for Ben-Gurion University virtual event. Registration for the free virtual mega-event is now open.
The third annual "Celebrating the Remarkable 3: Pioneering Medical Science" is set for April 23. According to the university, the event will showcase latest innovative breakthroughs in the fields of 3D printed science, cancer research, biomedical engineering, and more. Attendees will also get acquainted with how BGU uses 21st century medical techniques to train the Negev desert region's science leaders of tomorrow.
Dr. Mike expressed excitement about hosting the event.
"In strong alignment with the institution's namesake, Ben-Gurion University is a true pioneer," he said. "The University ignites breakthroughs in fields ranging from cancer research to biomedical engineering and much more, all while training the next generation of medical science professionals who will leverage that cutting-edge research in their indispensable work. As a medical professional from the Millennial generation, I understand the urgency of this mission for the vitality of our collective future — and I'm eager to partner with Americans for Ben-Gurion University to raise greater awareness about it."
The virtual experience — accessible to participants free of charge — will feature a mini-documentary about two BGU professors who are conducting impactful research, Prof. Galit Katarivas Levy and Dr. Moshe Elkebets.
Prof. Katarivas Levy's research focuses on the development of biomedical materials using different three-dimensional (3D) printing technologies. Her lab is involved in developing an implant that allows for controlled release of a chemotherapy drug for Glioblastoma, a deadly and aggressive brain cancer. Dr. Elkebets' laboratory focuses primarily on performing translational experiments on targeted therapeutics and immunotherapy for gynecologic and head and neck cancers.
"We are delighted to be spotlighting Ben-Gurion University's breakthrough research, while providing a platform to its outstanding students and highlighting the myriad ways the institution is bringing innovative solutions to the Negev and beyond," said Doug Seserman, chief executive officer of A4BGU. "Dr. Mike is a natural choice for hosting this event, given his passion for broadly disseminating medical education on social media and his gift for making the most complex subjects more understandable to all."
Read more in The Jerusalem Post >>