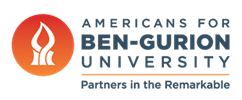 BGU Researchers Announce New Model for COVID-19 Policy Decisions
August 30, 2021
Medical Research, Press Releases
A new model developed by Ben-Gurion University researchers will enable many countries to now balance COVID-19 vaccine availability with social distancing mandates and other biological and social parameters to facilitate more successful pandemic policy decisions.
The model was just published in the peer-reviewed PLOS Computational Biology. "The current COVID-19 global situation demands a multi-layered response," according to Prof. Nadav Davidovitch M.D., director, BGU School of Public Health, Faculty of Health Sciences, chair, Israeli Public Health Physicians Association, and member of the Israeli National Expert Committee on COVID-19.
Professor Davidovich will be discussing the Delta variant, booster shots and other COVID-19 developments in a webinar on Wednesday, Sept. 1 at 12 p.m. ET, hosted by Americans for Ben-Gurion University.
"Vaccines are an essential component, but it is clear that different contexts such as population characteristics and vaccines availability, together with the dynamic changes in disease spread, demand crucial decisions on strategies and priorities," said Professor Davidovich. "Our model can be applied by many countries in order to simulate and optimize responses."
The researchers explain that every country has different considerations – some have ample vaccine quantities for their entire population, while others have only limited supplies.
"Our model can tell you, for instance, whether it makes more sense to vaccinate the elderly and demand more social distancing from adults or vice versa," says Dr. Shai Pilosof of the BGU Department of Life Sciences in the Faculty of Natural Sciences. "The study provides insights into the factors that affect vaccination success and provides methodology to test different intervention strategies in a way that will align with ethical guidelines."
"BGU has been at the forefront of COVID-19 research. Through numerous studies, including this one, BGU Prof. Davidovich has contributed greatly to Israel's COVID-19 response," says Doug Seserman, chief executive officer of Americans for Ben-Gurion University.
Americans for Ben-Gurion University is dedicated to developing the Negev region and ensuring Israel's future by supporting impactful research, including this study, along with BGU's innovation and education.
"Beyond Israel, this model could also help us in the United States as we work towards improving upon pandemic response strategies, reducing hospitalizations and saving lives," Seserman goes on to say.
Additional researchers at BGU included Sharon Guerstein and Ma'ayan Dekel of the Department of Life Sciences; Oren Miron and Dr. Rami Puzis of the Department of Software and Information Systems Engineering. Dr. Victoria Romeo-Aznar of The University of Chicago and the University of Buenos Aires also contributed to the research.
ABOUT AMERICANS FOR BEN-GURION UNIVERSITY
Americans for Ben-Gurion University plays a vital role in maintaining David Ben-Gurion's vision of an "Oxford in the Negev." By supporting a world-class academic institution that not only nurtures the Negev, but also shares its expertise locally and globally, Americans for Ben-Gurion University engages a community of Americans who are committed to improving the world. The Americans for Ben-Gurion University movement supports a 21st century unifying vision for Israel by rallying around BGU's remarkable work and role as an apolitical beacon of light in the Negev desert.
Media Contact:
Andrew Lavin
A. Lavin Communications
516-944-4486
[email protected]