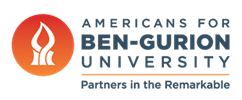 Healthcare Lessons at BGU from Inside a New Culture
June 28, 2011
Medical Research, Negev Development & Community Programs
A group of nine students, mostly psychology, physical therapy or public health majors, from Boston's Northeastern University traveled to Beer-Sheva to participate in a program called Dialogue of Civilizations.
The program focused on the challenges of providing healthcare in a multi-cultural environment, and was led by Anita Finkelman, a visiting clinical instructor at Northeastern University's School of Nursing.
"Some of these students had never lived in [an overseas] place for a month and interacted with the culture," says Finkelman.
"Their collective realization that we are more alike than we are different is something that is important in medical care, whether you're working in Boston or halfway across the world."
The students had nearly unlimited access to more than three-dozen Ben-Gurion University of the Negev faculty and staff. At the university-affiliated Soroka Medical Center, students interacted on a daily basis with medical professionals, patients and their families.
One of the most rewarding experiences for the students was to meet Bedouin women who were training to become nurses.
Read more >>