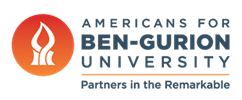 BGU Tech Detects Cancer Early
April 22, 2019
Medical Research, Robotics & High-Tech
The Jerusalem Post – Technology developed at and licensed by Ben-Gurion University is using artificial intelligence (AI) to detect a variety of cancers and other conditions, such as Alzheimer's, at a stage early enough to dramatically increase the effectiveness of treatment.
Todos Medical, which developed the test, was founded by Dr. Udi Zelig, who spent a decade at BGU investigating the use of infrared spectroscopic methods for medical diagnosis.
Todos' technology (TBIA) for cancer detection requires only a simple blood test. The blood is first separated into two components – immune cells and plasma – which are then measured by infrared spectroscopy for a total biochemical analysis. The approach involves looking at the entire biochemical composition of the immune system and the plasma, detecting the characteristic features related to cancer patients, then comparing them to healthy patients.
As a result, Todos is able to detect the cancer's "immune fingerprint" at an earlier stage, thus helping physicians identify the appropriate patients for further testing and targeted treatment while the disease is still treatable.
What's next for the new startup? The cancer detection test has been approved for commercialization in Europe. The next step is obtaining regulatory approval in Israel to start commercializing the test locally.