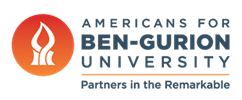 BGU Studies How Birds at UCLA Changed From COVID-19
August 28, 2023
Natural Sciences, Research News
The Jerusalem Post — Dr. Eleanor Diamant, an ecologist and evolutionary biologist from Ben-Gurion University of the Negev (BGU) in Beer-Sheva, traveled all the way to Los Angeles to study birds called dark-eyed juncos that have thrived at the campus of the University of California for 20 years.
There are no such birds in Israel, as the small grayish bird (Junco hyemalis) live in much of the North and in summer venture far north into the Arctic. It's often called a "snowbird" because at the end of autumn when you see one, it signals the fact that winter is coming.
When UCLA shifted to remote online classes during the early days of COVID-19, the campus was almost empty, but not completely, as several species of animals continued to go about their daily lives – with far fewer disturbances from students and academic staffers. Among them were about 300 juncos.
Likely because of the direct and indirect effects of human activity like vehicular traffic, collisions, light pollution, and noise pollution, some wildlife – specifically urban wildlife – adjusted their behaviors and patterns across the globe.
"If less-fearful birds had chosen to live on campus in the first place, we would have expected their fear response to be essentially unchanged. If they were habituated, we would have thought they'd become more fearful during the closure and then less fearful after, or not shift their behavior at all. But these birds didn't shift fear response with humans absent and they shifted toward much less fearful after humans came back." – Dr. Eleanor Diamant, BGU ecologist and evolutionary biologist.