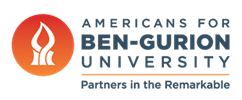 BGU Hosts Top U.S. Homeland Security Representatives
July 6, 2017
Homeland & Cyber Security, Press Releases
United States cyber security experts, including President Trump's top homeland security advisor Thomas Bossert, visited Ben-Gurion University of the Negev last week in a visit arranged by CyberSpark, Beer-Sheva's unique cyber security ecosystem.
CyberSpark is a one-of-a-kind public-private partnership that acts as the central coordinating body for cyber industry activities in Beer-Sheva. It is a joint venture among BGU, the Israeli National Cyber Bureau in the Prime Minister's Office, the Beer-Sheva municipality, the Israel Defense Forces, and global companies, including Deutsche Telekom, EMC, RSA, Lockheed Martin, IBM, and PayPal.
Bossert, who is assistant to the president for homeland security and counterterrorism, was accompanied by Robert E. Joyce, National Security Council (NSC) cyber security coordinator; Michael Paul Sellitto, NSC director for cyber security policy; Andrew Hart Teitelbaum, his special assistant; and U.S. Embassy Representatives Darren Turner and Daniel Gage.
During the meeting, BGU Vice President and Dean for Research and Development Prof. Dan Blumberg said that, "CyberSpark is a combination of scientific capabilities and everyone's willingness to cooperate on joint projects rather than just compete. BGU is the anchor that enables the ecosystem to thrive."
Bossert also met with Dr. Mordechai Guri, head of research and development at the BGU Cyber Security Research Center; Roni Zehavi, CyberSpark chief executive officer; and representatives from Dell-EMC and PayPal. Bossert and his colleagues also toured the Deutsche Telekom Innovation [email protected], Deutsche Telekom's only R&D center outside of Germany, which is staffed by BGU faculty and students.
ABOUT AMERICANS FOR BEN-GURION UNIVERSITY
By supporting a world-class academic institution that not only nurtures the Negev, but also shares its expertise locally and globally, Americans for Ben-Gurion University engages a community of Americans who are committed to improving the world. David Ben-Gurion envisioned that Israel's future would be forged in the Negev. The cutting-edge research carried out at Ben-Gurion University drives that vision by sustaining a desert Silicon Valley, with the "Stanford of the Negev" at its center. The Americans for Ben-Gurion University movement supports a 21st century unifying vision for Israel by rallying around BGU's remarkable work and role as an apolitical beacon of light in the Negev desert.
About Ben-Gurion University of the Negev
Ben-Gurion University of the Negev embraces the endless potential we have as individuals and as a commonality to adapt and to thrive in changing environments. Inspired by our location in the desert, we aim to discover, to create, and to develop solutions to dynamic challenges, to pose questions that have yet to be asked, and to push beyond the boundaries of the commonly accepted and possible.
We are proud to be a central force for inclusion, diversity and innovation in Israel, and we strive to extend the Negev's potential and our entrepreneurial spirit throughout the world. For example, the multi-disciplinary School for Sustainability and Climate Change at BGU leverages over 50 years of expertise on living and thriving in the desert into scalable solutions for people everywhere.
BGU at a glance:  
20,000 students | 800 senior faculty | 3 campuses | 6 faculties: humanities & social sciences, health sciences, engineering sciences, natural sciences, business & management, and desert research.
For all press inquiries, please contact:
James Fattal, J Cubed Communications
516.289.1496