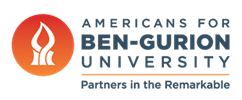 Americans for Ben-Gurion University's New CEO to Begin in October
July 7, 2017
Leadership, Awards & Events, Press Releases
Doug Seserman, who for 15 years has been president and chief executive officer of JEWISHcolorado, the Jewish Federation in Denver, has been appointed Americans for Ben-Gurion University's chief executive officer. He will assume the role in October.
He replaces Doron Krakow who left this position in March to become president and chief executive officer of the JCC Association of North America.
Americans for Ben-Gurion University President Toni Young says, "Doug is a creative, passionate Jewish community leader, an award-winning private sector marketing executive, an out-of-the-box thinker, an avid Zionist, and a mensch. Building on Americans for Ben-Gurion University's strong foundation, Doug has the skills to take Americans for Ben-Gurion University to the next level. I look forward to working with him."
Seserman is known for his creative business vision. Just last month he received national recognition by the American Business Awards, winning the 2017 Gold Stevie Nonprofit Executive of the Year award. In 2014, he was named to the Forward 50 as one of the 50 most impactful American Jews for his success and accomplishments reimagining Federation for the 21st century.
He orchestrated the merger of the Allied Jewish Federation and Jewish Community Foundation of Colorado, and launched the JEWISHcolorado brand to broaden the appeal and relevance for the next generation of donors.
Seserman achieved record fundraising at the Colorado Federation. During his tenure, he raised more than $200 million and almost tripled the organization's endowment and planned giving assets. He also worked to create strong bipartisan support in the state legislature, paving the way for Colorado as the fourth state to sign an anti-BDS law in 2016. The new law prohibits Colorado's largest state pension fund from investing in companies that boycott, divest or sanction (BDS) Israel.
"I'm honored by the opportunity to become the professional leader of Americans for Ben-Gurion University. I'm also humbled by the responsibility to sustain David Ben-Gurion's dream to develop the Negev. In my opinion, Ben-Gurion University is one of the most vital institutions to Israel's future," says Seserman.
Seserman's strengths in leadership, marketing and branding are the culmination of an exemplary career in telecommunications and consumer products marketing, prior to entering the Jewish nonprofit arena.
As senior vice president, marketing and sales at AT&T Broadband, he oversaw marketing for AT&T's $10 billion portfolio of cable television, high-speed internet access and cable telephone product offerings. Prior to that, at TCI, he launched the country's first digital cable television product, TCI Digital Cable, before the company was acquired by AT&T.
From 1986 to 1996, Seserman served in executive positions at The Quaker Oats Company in Europe and in the United States, advancing from his first job as marketing assistant in the Pet Foods Division to European brand equity director in only a decade.
Among his volunteer activities, he was a member of the Jewish Agency for Israel board of governors from 2005 to 2016, and currently serves on the executive committee of Jewish Federations of North America as chair of the Large Intermediate Federation City Size Group.
Seserman received an MBA from J.L. Kellogg Graduate School of Management, Northwestern University (NU) in 1986 and a B.S. in communication studies in 1985 from NU.
He currently lives in Denver with his wife, Sue, and will be relocating to New York. They have twin young adult daughters. Doug is an outdoor sports enthusiast, particularly enjoying skiing and cycling.
ABOUT AMERICANS FOR BEN-GURION UNIVERSITY
By supporting a world-class academic institution that not only nurtures the Negev, but also shares its expertise locally and globally, Americans for Ben-Gurion University engages a community of Americans who are committed to improving the world. David Ben-Gurion envisioned that Israel's future would be forged in the Negev. The cutting-edge research carried out at Ben-Gurion University drives that vision by sustaining a desert Silicon Valley, with the "Stanford of the Negev" at its center. The Americans for Ben-Gurion University movement supports a 21st century unifying vision for Israel by rallying around BGU's remarkable work and role as an apolitical beacon of light in the Negev desert.
About Ben-Gurion University of the Negev
Ben-Gurion University of the Negev embraces the endless potential we have as individuals and as a commonality to adapt and to thrive in changing environments. Inspired by our location in the desert, we aim to discover, to create, and to develop solutions to dynamic challenges, to pose questions that have yet to be asked, and to push beyond the boundaries of the commonly accepted and possible.
We are proud to be a central force for inclusion, diversity and innovation in Israel, and we strive to extend the Negev's potential and our entrepreneurial spirit throughout the world. For example, the multi-disciplinary School for Sustainability and Climate Change at BGU leverages over 50 years of expertise on living and thriving in the desert into scalable solutions for people everywhere.
BGU at a glance:  
20,000 students | 800 senior faculty | 3 campuses | 6 faculties: humanities & social sciences, health sciences, engineering sciences, natural sciences, business & management, and desert research.
Media Contact:
Brian Sherry
Stern Strategy Group
908-325-3860