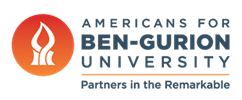 Jewish Press: BGU to Honor Dr. Chelsea Clinton
February 7, 2023
JewishPress.com — Ben-Gurion University of the Negev will award renowned writer and public health advocate Dr. Chelsea Clinton an honorary doctorate at the University's Board of Governors Meeting in May 2023, BGU President Prof. Daniel Chamovitz has announced.
Dr. Clinton and her parents—former President Bill Clinton and former Secretary of State and Sen. Hillary Clinton—were also noted for the impact of the Clinton Global Initiative in the realm of addressing global climate change.
"Dr. Chelsea Clinton is a world-renowned activist, author, and ardent supporter of gender equity. As vice chair of the Clinton Foundation, she strategizes regarding their flagship initiatives Too Small to Fail, and the Clinton Global Initiative University. She is a strong advocate of raising awareness about vaccine hesitancy, childhood obesity, and health equity," Prof. Chamovitz said.
"We are honored that Dr. Clinton will be accepting an honorary doctorate from the University in May. Ben-Gurion University has always been at the forefront of community medicine and increasing access to high-quality medical care for underserved populations in the Negev," he added.
"As a leader in both public health and climate change research, it is only fitting that BGU honors Dr. Chelsea Clinton, whose family shares the university's commitment to and passion for tackling society's most urgent challenges — demonstrating that David Ben-Gurion's vision is not only transforming Israel but also changing the world," said Doug Seserman, CEO of Americans for Ben-Gurion University (A4BGU).
May's honor for Dr. Clinton, a changemaker in the field of global health, will come on the heels of A4BGU's April 23 event, "Celebrating the Remarkable 3: Pioneering Medical Science." c, cancer research, biomedical engineering, and more. Participants will discover how David Ben-Gurion's pioneering spirit lives on and get to know the Negev's science leaders of tomorrow.
Read more on JewishPress.com >>