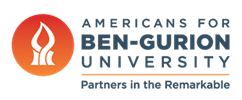 BGU to Collaborate With Universities in Arizona and Mexico
September 20, 2017
Leadership, Awards & Events, Press Releases
Ben-Gurion University of the Negev (BGU), the University of Arizona (UA) and Universidad Nacional Autónoma de México (UNAM) have signed a trilateral agreement to cooperate on research, innovation and entrepreneurship.
The agreement was signed during a visit earlier this month by delegations from the two universities while visiting BGU. The innovative agreement also includes knowledge sharing and collaboration between Beer-Sheva's Advanced Technologies Park (ATP), UA Tech Parks Arizona in Tucson and UNAM's high-tech initiatives.
The new framework will encourage innovation in a number of areas: developing joint projects and applied research; cooperation between the three university's technology-transfer companies and high-tech parks; and establishing industry ties.

The three institutions have similar research interests and arid climates that demand addressing similar challenges. The UA Tech Parks Arizona is similar to the Advanced Technologies Park in Beer-Sheva, in which BGU is a major investor and helped found in partnership with the city. In addition to focusing on desertification and climate change, joint research projects will explore arid land agriculture and water, advanced solar and alternative energy, cyber security, heath care informatics, robotics, and smart vehicles.
"This trilateral agreement leverages regional assets and international outposts, providing a complementary package of resources to innovators worldwide," says Bruce Wright, associate vice president, Tech Parks Arizona. "It is part of our Arizona Global Advantage, a strategic business development program designed to attract fast-growth technology companies to the Arizona-Sonora region, and was created to foster an economy that is borderless and unconstrained, and dependent upon innovation and the ability to move product to global markets rapidly."
In addition to meeting with many BGU researchers, the delegations met the directors of BGN Technologies, BGU's technology transfer company, as well as the heads of BGU's major research centers: the National Institute for Biotechnology in the Negev, the Ilse Katz Institute for Nanoscale Science and Technology, and the Jacob Blaustein Institutes for Desert Research.
"This agreement expands our fruitful collaboration with UA and is an exciting addition to the other growing collaborations with U.S. universities," says BGU Vice President and Dean for Research and Development Dan Blumberg, who will be responsible for overseeing the research collaborations. "This agreement brings together excellent universities that we can learn from, while sharing our experience and knowledge with them to benefit each of their surrounding populations."
BGU Vice President and Director-General David Bareket adds, "This developing cooperation is innovative and unique. When leading global universities develop long-term connections and seek to deepen research and commercial cooperation to benefit from our accumulated knowledge, it is further proof that BGU is a leader in Israeli academia in the fields of innovation, technology and collaborations with knowledge-intensive industries." Bareket will lead the business collaborations between the high-tech parks and research initiatives.
According to Vice President of Innovation and Technology Transfer at UNAM, Juan Manuel Romero, "The fact that we have had the opportunity to sign this agreement will allow us to complement and strengthen capabilities among the three universities. This means that we will be able to carry out joint research, business development with an international perspective and exchange of best practices. Undoubtedly, our communities will be greatly benefited by this initiative."
TheNational Autonomous University of Mexico (UNAM)
The National Autonomous University of Mexico (UNAM), founded in 1552, is a public research university in Mexico, one of the top universities in Latin America and ranked 122 in the world in the QS Ranking. UNAM generates a number of strong research publications and patents in diverse areas such as robotics, computer science, engineering, biotechnology, among others. There have been three Mexican Nobel laureates that are either alumni or faculty of UNAM.  UNAM has a student body of approximately 350,000 in more than 40 faculties and schools. There are approximately 30,000 graduate students and more than 40,000 faculty members distributed across all campuses.
About the University of Arizona
Established in 1885, the University of Arizona–the state's super land-grant university with two medical schools–produces graduates who are real-world ready through its 100% Engagement Initiative. UA is recognized as a global leader in research, bringing more than $606 million in research investment each year and ranking 21st among all public universities. UA is advancing the frontiers of interdisciplinary scholarship and entrepreneurial partnerships and is a member of the Association of American Universities. It benefits the state with an estimated economic impact of $8.3 billion annually.
ABOUT AMERICANS FOR BEN-GURION UNIVERSITY
Americans for Ben-Gurion University plays a vital role in maintaining David Ben-Gurion's vision of an "Oxford in the Negev." By supporting a world-class academic institution that not only nurtures the Negev, but also shares its expertise locally and globally, Americans for Ben-Gurion University engages a community of Americans who are committed to improving the world. The Americans for Ben-Gurion University movement supports a 21st century unifying vision for Israel by rallying around BGU's remarkable work and role as an apolitical beacon of light in the Negev desert.
Media Contact:
Andrew Lavin
A. Lavin Communications
516-944-4486
[email protected]