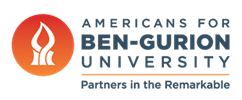 BGU Announces Prof. Daniel Chamovitz as President-elect
August 14, 2018
Leadership, Awards & Events, Press Releases
Professor Daniel (Danny) Chamovitz, dean of the George S. Wise Faculty of Life Sciences at Tel Aviv University (TAU), was today elected as the seventh president of Ben-Gurion University of the Negev (BGU).
The University's executive committee, headed by Asher Heled, confirmed the recommendation of the Presidential Search Committee, also chaired by Heled. Prof. Chamovitz will assume office on January 1, 2019, replacing outgoing President Prof. Rivka Carmi, who will have completed three terms in office (12 years).
"Prof. Chamovitz has the ability to lead, and can create the necessary and appropriate circles of cooperation within and outside the University," said Heled. "The search committee was impressed by Chamovitz's academic stature in Israel and abroad. We believe he has the leadership skills, vision and the ability to lead significant processes of change and development, combined with proven academic administration experience. He is intimately acquainted with the higher education system and with trends in academic development in Israel and abroad."
In his presentation to the executive committee, Prof. Chamovitz said, "Ben-Gurion University of the Negev is uniquely positioned to take a leading role nationally and internationally. The University already embraces diverse academic fields, having developed strong science, humanities and professional programs, and it attracts bright young researchers.
"Its modern campus, which is expected to expand to the new North Campus, combined with the new Advanced Technologies Park next door, open up countless opportunities for innovation and interactions with industry that could only have been dreamed of in the past."
Prof. Chamovitz's vision emphasizes a focus on "excellence and innovation in the three pillars that define Ben-Gurion University: Research, academia and community outreach. These three pillars must be shaped by the University's mission, inherent in its name," he said.
Prof. Rivka Carmi remarked, "It has been a great privilege to serve as president of this wonderful institution for 12 challenging years, and I couldn't be prouder of what we've accomplished. I am confident that Prof. Chamovitz will continue to build on those successes and lead the University to new and greater achievements."
Alex Goren, chairman of the Ben-Gurion University board of governors and a former president of American Associates, Ben-Gurion University of the Negev based in New York, said, "We believe that Prof. Chamovitz is the right person to fill Prof. Rivka Carmi's very large shoes and that he will continue to improve BGU's already remarkable advances as a world leader in research and education, as well as its ranking, both nationally and internationally. We welcome him and his family to Beer-Sheva and wish him success."
Prof. Chamovitz is a native of Aliquippa, Pennsylvania. He studied at both Columbia University in New York City and The Hebrew University of Jerusalem, where he earned a Ph.D. in genetics. As a member of Tel Aviv University's academic faculty, he received the prestigious Alon Fellowship for outstanding young researchers from the Council for Higher Education.
Prof. Chamovitz is an internationally recognized activist for plant sciences and their contribution to feeding the growing world population. He is on the editorial board of several important scientific journals, and has published extensively on developmental biology, computational biology and botany in peer-reviewed scientific journals.
He is founder of the Manna Center Program for Food Safety and Security at TAU and his 2012 popular science book, What a Plant Knows, received critical attention worldwide and has been translated into 18 languages.
ABOUT AMERICANS FOR BEN-GURION UNIVERSITY
By supporting a world-class academic institution that not only nurtures the Negev, but also shares its expertise locally and globally, Americans for Ben-Gurion University engages a community of Americans who are committed to improving the world. David Ben-Gurion envisioned that Israel's future would be forged in the Negev. The cutting-edge research carried out at Ben-Gurion University drives that vision by sustaining a desert Silicon Valley, with the "Stanford of the Negev" at its center. The Americans for Ben-Gurion University movement supports a 21st century unifying vision for Israel by rallying around BGU's remarkable work and role as an apolitical beacon of light in the Negev desert.
About Ben-Gurion University of the Negev
Ben-Gurion University of the Negev embraces the endless potential we have as individuals and as a commonality to adapt and to thrive in changing environments. Inspired by our location in the desert, we aim to discover, to create, and to develop solutions to dynamic challenges, to pose questions that have yet to be asked, and to push beyond the boundaries of the commonly accepted and possible.
We are proud to be a central force for inclusion, diversity and innovation in Israel, and we strive to extend the Negev's potential and our entrepreneurial spirit throughout the world. For example, the multi-disciplinary School for Sustainability and Climate Change at BGU leverages over 50 years of expertise on living and thriving in the desert into scalable solutions for people everywhere.
BGU at a glance:  
20,000 students | 800 senior faculty | 3 campuses | 6 faculties: humanities & social sciences, health sciences, engineering sciences, natural sciences, business & management, and desert research.
For all press inquiries, please contact:
James Fattal, J Cubed Communications
516.289.1496