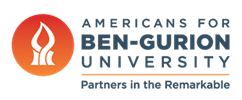 Benin Scholars Program Helps Low-Income Students Attend BGU
January 13, 2023
Negev Development & Community Programs
eJewishPhilanthropy.com — The sale of a two-and-a-half-acre piece of land owned by the estate of the late Albert Benin, a real estate developer and businessman, may soon enable thousands of low-income Israeli students to receive scholarships to the nation's premier colleges and universities — and a ticket to jobs in the country's vaunted tech industry. Following a lengthy rezoning process, it is going on the market. The funds from the sale will become an endowment for a nascent initiative called the Benin Scholars Program, run by the UJA-Federation of New York, providing full financial support and professional coaching to disadvantaged students at three Israeli academic institutions.
As of now, the program, which is named for Albert Benin's parents, Rachel and Selim, is expanding. This year, it added 30 students at BGU.
At Ben-Gurion, the scholarship recipients will join a student body in which nearly half of the students come from Israel's Negev Desert region, many of whose cities are smaller and have lower-income populations. The school has increased its Bedouin student population tenfold in the last 15 years, from 60 to more than 600, and already provides a suite of services to low-income or minority students to help them integrate on campus — from Hebrew classes to a program that stretches the first year of school out over two years. Another program allows students to begin studying engineering at a Ben-Gurion extension school in Eilat and then transfer.
"For many of them, this is their first time ever leaving their villages," Prof. Daniel Chamovitz, the university's president, told eJP. "Hebrew is their second or third language, and coming from the lowest social-economic stature in Israel, for them to come onto campus and believe they can succeed against all of these other students… for them, it's this massive social gap."
"If you look at computer science, it's not 40 to 45%" students from the Negev, he said, although that is the overall percentage of students from the region at his university. "If you look at electrical engineering, it's not 40 to 45%… These are the [fields] that guarantee social mobility, and so these are also the programs that are the most competitive to get into."  The strength of the Benin Program is that it gives disadvantaged students a pathway into the lucrative fields of tech and the sciences, Chamovitz told eJP. He said students in those concentrations have no trouble getting jobs after they graduate.
Read more on eJewish Philanthropy >>