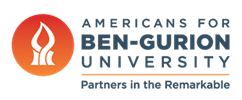 A4BGU CEO: Why Bring Ben-Gurion Day to the USA?
December 2, 2022
Israel Studies, Culture & Jewish Thought, Negev Development & Community Programs
The Times of Israel--Like most American Jews of my generation, I grew up with a special connection to Israel. For me, this was a result of years of Hebrew school, Jewish summer camps, and Jewish youth group (in my case BBYO). It's also because I'm my mother's son. She taught me that the small country of Israel, established in 1948 after the Holocaust in our ancient homeland, needed to exist and had to fight for its survival. But as they say: That was then, and this is now. Today, studies show that younger Jews in the United States feel less connected to Israel. What resonated with their parents – or even more so, with their grandparents – just doesn't have the same meaning for them.
The time has come, therefore, where we need to reimagine a 21st-century Zionism that resonates with the next generation of American Jews. One key to accomplishing this is by realigning the Jewish values of the Jewish state so that Israel can clearly be seen as a "migdal or" – a beacon of light to other nations. I also believe the answer can be found in the legacy of one man, who is arguably not only the most important Jew in modern history, but also whom I refer to as the #2 Jew of all time (have to give #1 to Moses). That man is David Ben-Gurion, Israel's founder, first prime minister, and the namesake for Ben-Gurion University of the Negev.
Every year, the State of Israel honors David Ben-Gurion on the day of his yahrzeit (anniversary of his passing) with Ben-Gurion Day. But in the United States, the day is virtually unknown, even among Jews. On November 30, 2022 – for the first time ever in the USA – Americans for Ben-Gurion University invites all Americans to commemorate this important day with us. Why now? The rise in apathy among younger Jews in the USA and elsewhere demands a renewed focus on Zionism – but in a way that taps into the values and concerns of this generation.
When I was young, I knew who David Ben-Gurion was, but I was not really familiar with what he stood for. That's something I learned years later when I started frequently traveling to Israel as the head of the JEWISHcolorado – the Jewish Federation in Denver. I began to better understand his significance when I saw his burial site at the magnificent view of the Zin valley in the Negev desert. It sounds obvious, but it wasn't until I started visiting Ben-Gurion University of the Negev that I realized how the work of this institution was so vital to his legacy. When speaking about what was then known as the University of the Negev, David Ben-Gurion once said: "We seek to build a scientific research and teaching center. One which will be a source of moral inspiration and courage, rousing people to a sense of noble mission –  both creative and fruitful." Today I understand that both David Ben-Gurion and the university which carries his name are a crucial link between my historical conception of Zionism and another one, which has yet to be fully realized.
Ben-Gurion was an idealist but also a pragmatist. He said: "The fate of Israel depends on two things: on her strength and on her righteousness." He knew the Middle East was a tough neighborhood, and that the Israel Defense Forces needed to have a qualitative advantage in order for the country to survive.  But, he also understood that the military alone was not enough. Israel needed to have a robust democracy, one that provides fair rights for all its citizens – Jews, Arabs, Muslims, and Christians alike. Today, we call this notion a "shared society," which by the way is not an easy thing to accomplish in a Jewish state. Ben-Gurion also once said: "The true test of democracy is the freedom of its criticism." On that accord, I'm sure Ben-Gurion would be proud.
David Ben-Gurion's ideology may not be common knowledge among Diaspora Jews, but it does exist. All you need to do is look at the Negev region of Israel, which represents 60% of the land of Israel, but today still represents less than 10% of the population. Ben-Gurion believed that the future of Israel would emerge from the Negev. He famously once said: "In the Negev, the creativity and pioneering vigor of Israel will be tested." Today, Ben-Gurion University of the Negev has become the Stanford of Israel. It was recently ranked as the 45th university in the world in terms of entrepreneurship. The main campus in Beer-Sheva is a walkable Innovation Ecosystem – the Start Up Nation on steroids, I like to say. The faculty of the University are world leaders in desert/water science, cyber security, medical research, robotics, and more. We recently announced Israel's first and largest climate school, the Goldman Sonnenfeldt School of Sustainability and Climate Change.
Not to be overly dramatic, but one can argue that the fight for human survival on a Planet increasingly challenged by a changing climate reflects the story of the Jewish people needing to make the desert bloom in the Negev. And, in a great poetic twist, humanity's salvation could actually emerge from that same desert.
Today there's no doubt that Israel has earned its right to exist. But, the time has come to change the conversation from a constant debate about what's wrong with Israel to a rallying around what's right. 21st Century Zionism will require a global enlightenment around Israel's groundbreaking scientific and technological contributions. And, that mission needs to begin with the Jewish Diaspora, where our belief in the Zionist dream can be revitalized by reimagining it for the modern world.
David Ben-Gurion represents the type of leader we need in the world today. In celebrating him this year and in future years through Ben-Gurion Day in the USA, we will continue his legacy – building awareness of his life and his dreams for the Jewish state and the Jewish people. We celebrate Israel's scientific and moral contributions to the world. Now that's 21st century Zionism. It's also an Israel that grandparents and grandchildren will both love.
To learn more about the first-ever Ben-Gurion Day in the USA, click here.
Read more in The Times of Israel >>