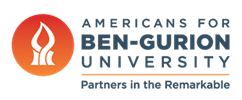 An Ecosystem of Tech Innovation in Southern Israel
March 25, 2014
Business & Management, Homeland & Cyber Security, Negev Development & Community Programs, Robotics & High-Tech
Tech Republic — For Beer-Sheva's Advanced Technologies Park (ATP) located directly across BGU's Marcus Family Campus, the ultimate vision is as high as the desert sun.
Inaugurated in September 2013, the park is the brainchild of former BGU president Prof. Avishay Braverman. "My dream that Ben-Gurion University will do for Beer-Sheva what Stanford University did for Silicon Valley begins," says Prof. Braverman.
The list of the ATP's tenants is impressive: Deutsche Telekom, EMC-RSA, NESS, Allscripts-dbMotion, Oracle, the Elbit Incubit incubator, Dalet, JVP's CyberLabs incubator, and BGN Technologies, the technology transfer company of BGU.
"Ten years from now in the southern part of Israel, Beer-Sheva is going to be an important area for high-tech," says Netta Cohen, chief executive officer of BGN Technologies.
The projected job growth in Beer-Sheva, Cohen explains, will be an economic boon for the area.
"From 100 high-tech people in the city, we now have 1,100. We're going to have 11,000 jobs later on, and with the high-tech units of the (Israeli) army that are going to join the area, then we're going to have 25,000 high-tech jobs. It's an important step both for the city and the region.
"There are many seeds that I am sure are going to flourish. Israel used to be all desert, and we know how to make the desert bloom."
A flowering of sorts is currently taking place in the Negev, thanks in part to high-profile stakeholders in the Israeli government and in multinational companies.
At a January 2014 conference in Davos, Switzerland with global elites in business and politics, Prime Minister Netanyahu devoted the first half of his speech to his nation's high-tech abilities. He told the audience that Israel intends to become one of the top three countries for cyber security.
On the heels of Davos, the prime minister attended the CyberTech 2014 conference in Tel Aviv at the end of January to announce a major cyber security initiative.
Along with IBM, Lockheed Martin, and EMC, the government of Israel, Netanyahu announced, is establishing a new national cyber security hub in Beer-Sheva called CyberSpark. It will be a joint venture between the government of Israel, private industry and BGU.