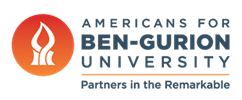 BGU Prof. Offers Tips for Vaccine Compliance
December 21, 2020
The Times of Israel — According to Prof. Golan Shahar, Ph.D., of BGU's Department of Psychology, "Vaccine hesitancy is actually an illustration of how the human brain and mind doesn't operate rationally, and getting the right messaging is so important."
Prime Minister Benjamin Netanyahu received Israel's first COVID-19 shot on Saturday night, kicking off the country's vaccination project and a high-stakes public campaign to convince citizens to take the long-awaited coronavirus protection.
The premier said he wanted to be the first Israeli to roll up his sleeves so as to encourage others to follow his lead. President Reuven Rivlin, who received his shot Sunday, has cited similar motivation. If there is any truth in recent polls, that encouragement is much needed.
A survey published early last week in the Israel Hayom daily suggested that 37%  of Israelis wouldn't take a shot, while only 44% said they planned to get inoculated.
Midweek figures caused even more consternation. A Haifa University poll published Tuesday suggested that less than a fifth of the population were willing to get inoculated immediately, with many preferring to let others take the plunge first and see how it goes.
But leading psychologist Prof. Golan Shahar is more optimistic. He believes that people get nervous about committing when put on the spot by pollsters, and that once the vaccination process gets going there will be a "snowball" effect that generates confidence.
Shahar, a professor at Ben Gurion University and the author of several studies on vaccination psychology, views the poll as particularly problematic and "way too pessimistic."
The survey, he argues, provoked negative responses by creating an intimidating and unrealistic scenario under which people would need to be the nation's first, without time to get used to the idea.
And he believes that whatever the nation's view of the vaccine is now, it can be significantly improved by the right campaign. Israel is starting its vaccine campaign in a far better position than the U.S., Shahar said, as it doesn't have a strong anti-vax lobby. Nevertheless, he believes the challenge is great, as it involves overpowering an "irrational" trait in many people that makes them worry about a health intervention that will protect them.
Prof. Shahar said the following key points can help bring about higher vaccination rates.
1. A personal example disarms "irrational forces"
2. A vaccine is like a bomb shelter
3. Ignore the anti-vax lobby
4. Find each community's sweet spot, and deploy its leaders
5. Stress that the science is sound
6. After "erratic" pandemic decision-making, it's time to build trust
7. Caring and driven leadership changes minds, "hysterical" leadership doesn't
8. A hybrid of traditional advertising and social media influence
9. Remove politics, but deploy politicians
10. No sitting on the fence