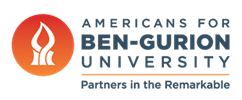 V-Smart Tech Could Be Answer to Brain Tumor Treatment
July 2, 2015
Medical Research, Nanotechnology, Press Releases
Lauren Sciences LLC, the private New York biotechnology company developing breakthrough V-Smart™ Nanomedicines for brain diseases, announced today the receipt of a grant from Voices Against Brain Cancer (VABC). The grant will support the development of a V-Smart™ drug delivery for glioblastoma multiforme (GBM), the most aggressive malignant primary brain tumor in humans.
The Lauren Sciences' research team and laboratories are located at Ben-Gurion University of the Negev, where the V-Smart™ technology was invented before it was licensed to Lauren Sciences.
"V-Smart™ for GBM, formulated with a potent anti-tumor agent, has promise as an effective new treatment for GBM patients," said Irwin Hollander, Ph.D., vice president for research and development at Lauren Sciences. "Our goal for this new V-Smart™ drug is to stop progression of, or eradicate, GBM, unlike standard treatments that in the vast majority of patients merely delay disease progression.
"We anticipate future efficacy studies of V-Smart™ in GBM pre-clinical models and, thereafter, clinical studies in patients. Our goal is clinical validation and approval of this V-Smart™ for GBM."
V-Smart™ for GBM will target and deliver a known chemotherapeutic that has proven potential to treat the brain tumor, but does not cross the blood-brain barrier (BBB) on its own. V-Smart™ Nanomedicines are designed to target and deliver therapeutics across the BBB and into selective brain cells both non-invasively and effectively.
"We thank Voices Against Brain Cancer for their award," said Susan Rosenbaum, J.D., founder, chairman and chief executive officer of Lauren Sciences. "VABC's grant is recognition of our successes to date, and investment in the future success of V-Smart™ for GBM as a transformative therapeutic for brain cancer patients."
VABC Chairman Michael Klipper added, "A major goal of VABC is to invest in cutting-edge developments that can have a monumental impact on the course of brain cancer. Certain anti-cancer agents have shown potential, but, because they cannot get into the brain by existing oral or i.v. delivery, fall short for patients.
"This challenge represents a critical unmet need in the field of brain cancer. V-Smart™ for GBM can solve the problem that many potential therapeutic agents for GBM do not cross the BBB."
About Lauren Sciences LLC
Lauren Sciences LLC is a privately held biotechnology company New York, founded in 2010. The company focuses on using the V-Smart™ drug delivery platform to create a robust pipeline of therapeutics consisting of central nervous system (CNS) active drugs that normally do not cross the blood-brain barrier. Lauren Sciences exclusively licensed the V-Smart™ technology platform and intellectual property estate from BGN Technologies, the technology transfer company of Ben-Gurion University of the Negev.
V-Smart™ Nanomedicines for brain diseases include CNS, neurodegenerative and rare/orphan brain diseases, such as GBM, NPC, ALS, Neuro-AIDS, Parkinson's, Alzheimer's, and LSDs, among others, as well as neurodevelopmental and psychiatric disorders. Lauren Sciences has advanced development of its proprietary V-Smart™ pipeline with disease foundations, and has been awarded numerous grants. Lauren Sciences also has strategic partnerships with major pharmaceutical companies, collaborations with prestigious U.S. university medical centers, invitations to present V-Smart™ research at scientific conferences, features in industry research reports, a worldwide patent portfolio, and extensive publications on V-Smart™ in peer-reviewed scientific journals.
About Voices Against Brain Cancer
Voices Against Brain Cancer's (VABC) mission is to find a cure for brain cancer and brain tumors by advancing scientific research, increasing awareness, creating a brain cancer and tumor community, and supporting patients, their families and caregivers afflicted with this devastating disease. VABC has a wide variety of initiatives in motion for brain cancer research, awareness and support. The organization's research grants fund cutting-edge programs that will have a monumental impact on the diagnosis and treatment of brain cancer and brain tumors. For more information, visit: www.voicesagainstbraincancer.org.
ABOUT AMERICANS FOR BEN-GURION UNIVERSITY
By supporting a world-class academic institution that not only nurtures the Negev, but also shares its expertise locally and globally, Americans for Ben-Gurion University engages a community of Americans who are committed to improving the world. David Ben-Gurion envisioned that Israel's future would be forged in the Negev. The cutting-edge research carried out at Ben-Gurion University drives that vision by sustaining a desert Silicon Valley, with the "Stanford of the Negev" at its center. The Americans for Ben-Gurion University movement supports a 21st century unifying vision for Israel by rallying around BGU's remarkable work and role as an apolitical beacon of light in the Negev desert.
About Ben-Gurion University of the Negev
Ben-Gurion University of the Negev embraces the endless potential we have as individuals and as a commonality to adapt and to thrive in changing environments. Inspired by our location in the desert, we aim to discover, to create, and to develop solutions to dynamic challenges, to pose questions that have yet to be asked, and to push beyond the boundaries of the commonly accepted and possible.
We are proud to be a central force for inclusion, diversity and innovation in Israel, and we strive to extend the Negev's potential and our entrepreneurial spirit throughout the world. For example, the multi-disciplinary School for Sustainability and Climate Change at BGU leverages over 50 years of expertise on living and thriving in the desert into scalable solutions for people everywhere.
BGU at a glance:  
20,000 students | 800 senior faculty | 3 campuses | 6 faculties: humanities & social sciences, health sciences, engineering sciences, natural sciences, business & management, and desert research.
For all press inquiries, please contact:
James Fattal, J Cubed Communications
516.289.1496