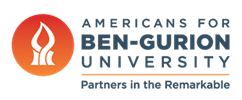 JWeekly: Israel's Top Space Scientists Visit the Bay Area
November 3, 2022
The Jewish News of Northern California — Three of Israel's leading space scientists joined a special panel hosted in San Francisco on October 25 about scientific innovation and space. For an online and in-person audience of about 700, the scientists discussed their projects, all taken to the International Space Station by Israeli astronaut Eytan Stibbe in April of this year.
Joining the panel was Dr. Oren Shriki, of the Department of Cognitive and Brain Sciences at Ben-Gurion University. He worked with Israeli startup brain.space, which developed a helmet that can measure electrical activity in the brain.
"The major question that we decided to tackle is, we call it 'neuro-wellness in space,'" he said. "What happens to the brain during long-term space travel?" The results will be important for planning long missions, such as to Mars. "We monitor every instrument on the spaceship except for this important instrument called the brain," Shriki said.
Stibbe took the helmet to the ISS, where three astronauts agreed to participate in the experimental use of the simple-to-use, easy-to-configure helmet technology, which the company hopes may revolutionize EEG monitoring. "It's hard to say anything concrete so we're still working on it, but definitely the experiment was a great proof of concept," said Shriki.
The lecture is the first in a series called "Israel in Our Lives" that will highlight Israeli innovation. It was held as a collaboration between the San Francisco-Haifa Sister City Committee, Global:SF (a nonprofit that promotes the growth of international companies in Northern California), pro-Israel news agency Israel21c, American Friends of Tel Aviv University, Americans for Ben-Gurion University, American Committee for the Weizmann Institute of Science and the Consulate General of Israel to the Pacific Northwest. It was hosted by the San Francisco law firm Nixon Peabody.
Read more from JWeekly >>