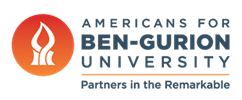 Obama's Israel Trip to Include Focus on Brain Tech
March 15, 2013
Medical Research, Press Releases, Robotics & High-Tech
NEW YORK, March 15, 2013 — Two brain-focused technologies developed by researchers at Ben-Gurion University of the Negev (BGU) will be presented to President Barack Obama during his Israel trip as part of a research and technology showcase on March 21.
The projects, which will be presented at an event at the Israel Museum in Jerusalem, were among those specifically selected by a special committee in Israel's prime minister's office.
The first project, MinDesktop, developed by BGU students under the supervision of Prof. Rami Puzis of the Department of Information Systems Engineering, is a thought-controlled, hands-free computer for the disabled that could enable people to operate a computer without using a keyboard or mouse – only their brainwaves.
The BGU technology features a helmet equipped with 14 EEG connect points that sense brain activity.
The second innovation is brain activation technology by ElMindA, a start-up company founded by Prof. Amir Geva of BGU's Department of Electrical and Computer Engineering.
The BNA™ platform enables high resolution visualization and evaluation of the complex neuro-physiological interconnections of the human brain at work, capturing information on the composition, connectivity, synchronization, and operation of brain networks.
BNA™ measures brain state and brain changes and can potentially be applied to analyze a wide spectrum of neurological, psychiatric and physical conditions, including concussions, sports injuries, and central nervous system-related diseases, like Alzheimer's and Parkinson's.
In addition, the technology serves as a valuable tool in the development of treatments for these diseases, in rehabilitation from sports injuries, and in evaluating when physical activity can be resumed. BNA™ is currently being used with leading partners in the United States.
"In the president's recent State of the Union address, he discussed a decade-long scientific research endeavor on the human brain," explains Doron Krakow, executive vice president, American Associates, Ben-Gurion University of the Negev.
"BGU is a rising international star in the field of brain research and we are honored to have been asked to highlight examples of our best research and to be part of President Obama's upcoming visit to Israel."
In another recent example of BGU's stature in brain research capabilities, former Prime Minister Ariel Sharon, who has been in a coma since 2006, was brought to the University's Brain Imaging Lab at Soroka University Medical Center for MRI tests. The BGU team consisted of Prof. Alon Friedman, and Drs. Galia Avidan and Tzvi Ganel of BGU's Zlotowski Center for Neuroscience.
ABOUT AMERICANS FOR BEN-GURION UNIVERSITY
By supporting a world-class academic institution that not only nurtures the Negev, but also shares its expertise locally and globally, Americans for Ben-Gurion University engages a community of Americans who are committed to improving the world. David Ben-Gurion envisioned that Israel's future would be forged in the Negev. The cutting-edge research carried out at Ben-Gurion University drives that vision by sustaining a desert Silicon Valley, with the "Stanford of the Negev" at its center. The Americans for Ben-Gurion University movement supports a 21st century unifying vision for Israel by rallying around BGU's remarkable work and role as an apolitical beacon of light in the Negev desert.
About Ben-Gurion University of the Negev
Ben-Gurion University of the Negev embraces the endless potential we have as individuals and as a commonality to adapt and to thrive in changing environments. Inspired by our location in the desert, we aim to discover, to create, and to develop solutions to dynamic challenges, to pose questions that have yet to be asked, and to push beyond the boundaries of the commonly accepted and possible.
We are proud to be a central force for inclusion, diversity and innovation in Israel, and we strive to extend the Negev's potential and our entrepreneurial spirit throughout the world. For example, the multi-disciplinary School for Sustainability and Climate Change at BGU leverages over 50 years of expertise on living and thriving in the desert into scalable solutions for people everywhere.
BGU at a glance:  
20,000 students | 800 senior faculty | 3 campuses | 6 faculties: humanities & social sciences, health sciences, engineering sciences, natural sciences, business & management, and desert research.
Media Contact:
Brian Sherry
Stern Strategy Group
908-325-3860