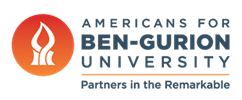 Understanding the Challenges of the Post-Corona Economy
May 7, 2020
ISRAEL21c — It doesn't take an expert to see that the coronavirus pandemic has left the global economy gasping for breath. Soaring unemployment and a looming recession pose dangers to many more people than the approximately 3 million infected by the virus.
But you do have to be an expert to understand exactly what challenges – and even opportunities — await us when the pandemic passes, and what steps could heal the world economy.
Prof. Avia Spivak, head of BGU's Pensions, Insurance and Financial Literacy Center and member of the Department of Economics, is also a former deputy governor of the Bank of Israel. He shares his perspective on this "new and intricate" economic situation.
In his view, the picture of our future is vague because the current situation is unique in history.
"The cause of this economic crisis is from the supply side. Most economic crises, like the Great Depressions of 1873 and 1929, were caused by shortage of demand. Now, demand is not lacking," he explains.
Supply dwindled as a result of the massive disruption of activities due to shutdowns and quarantines.
"At least until there is a reasonable cure or vaccine, we will have to cohabit with the virus. So the supply-side problem will be with us for months — hopefully not years — to come," says Spivak.
"This is a new and intricate situation. The question is how to revive the economy without risking a new wave of infection."
Prof. Spivak observes that every country is learning through trial and error. He says governments err by giving cash to businesses without conditions on how the money is used.
"It should be given in a way that will incentivize employers to keep as many employees as possible, at least on partial salary," he says.
"We know from the 2008-2009 economic crisis that once a person is fired it's difficult to find employment again. The economy is going to restructure and if you keep your basic employees it will be better for them and for you."
Spivak says governments must learn from this crisis how important it is to invest in building a good public health system.
"The percentage of expenditure on health in the U.S. as part of GDP is more than twice that of OECD countries. But because the U.S. system is based on private medicine, it doesn't have the infrastructure to meet this kind of crisis. It should be remodeled," he states.
"Economic theory holds that health is a public good so it should be supplied publicly," he adds. "Good health is the basis of the economy, because you can only work productively if you're healthy."