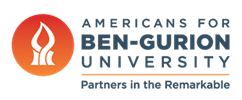 PepsiCo Acquires SodaStream and Builds in the Negev
August 28, 2018
Business & Management, Negev Development & Community Programs
PepsiCo announced on August 20, 2018 that it will acquire all outstanding shares of SodaStream as part of an acquisition deal. The company creates a product that allows you to carbonate and flavor water at home.
BGU alum Idan Zu-Aretz, and chief operating officer of SodaStream, says the Israeli-based company is set to build another large factory in the Negev.
"It's like riding on a missile," laughs Zu-Aretz. "This deal soars SodaStream and all its employees to even higher horizons."
According to Zu-Aretz, SodaStream will continue to operate as usual; the new factory will open in the Idan Ha'Negev Industrial Park, near Rahat, a city in southern Israel.
SodaStream, though well known, is not a high-tech company, but Zu-Aretz explains that the approach of the company's leadership is that of a high-tech company on every level: treating every facet of work, manufacturing and employee as a high-tech company, with a supportive and family environment, and most importantly a commitment to excellence, social responsibility "and contribution to the Israeli economy."
Zu-Aretz completed a bachelor's degree in industrial engineering at BGU's Department of Industrial Engineering and Management, and his MBA in the Executive Program at BGU's Guilford Glazer Faculty of Business and Management in 2006.
Prior to joining SodaStream, Zu-Aretz had held several senior managerial and executive positions at Intel, in Israel and abroad, and gained extensive experience in managing large-scale operations, industrial engineering, global recruitment, and interdisciplinary roles. In addition, he also worked on mergers, acquisitions and integration.
SodaStream employs 104 Palestinian workers, Israeli Arabs from East Jerusalem, a large number of Bedouins (specifically Bedouin women), and new and veteran immigrants from all origins, with the aim of creating coexistence and community relations among the Israeli population.