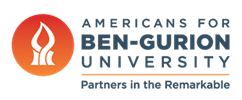 New BGU Lab is Bringing Stroke Rehab Into the Future
August 9, 2021 - Summarized from The Jerusalem Post
The Jerusalem Post — 'The return-to-work rate for people after suffering a stroke has not significantly changed since the 1970s," says Dr. Simona Bar-Haim, founding director of the Translational Neuro-Rehabilitation Research Lab (also referred to as the "Negev Lab") at the ADI Negev-Nahalat Eran Rehabilitation Village in southern Israel.
Bar-Haim is not your typical academic. She has one foot firmly in the field, and one foot firmly in the academy as a member of the department of physical therapy in the Faculty of Health Sciences at BGU. She also founded a start-up based on chaos theory to help people walk after suffering a stroke.
"Many people do not recover enough to return to work or to their regular lives," she says.
What is more, as the population ages and lives longer, there are more and more people suffering strokes and then recovering only partial functionality. In Israel, 17,000-20,000 people a year suffer a stroke.
While the effects of a stroke are well known, the best course of rehabilitation to return to functionality is still very much a mystery, to which Bar-Haim and Dr. Lior Shmuelof, also of BGU, have devoted themselves to help solve.
Driven by that impetus to help and by her out-of-the-box way of thinking, Bar-Haim recently set up a translational rehabilitation lab at the rehabilitation village. Translational science tries to find solutions for real-world problems. At ADI Negev, the problems arise from the patients themselves, their doctors and caregivers, and the solutions are tested in conjunction with the patients.
Shmuelof is partnering with the MRI Imaging Center at Soroka-University Medical Center and researchers Profs. Alon Friedman, Ilan Shelef, Anat Horev and Gal Ben-Arie, with the aim of identifying the neural components associated with brain plasticity after injury.
Shmuelof will then take what he learns from MRI imaging and bring it back to the Translational Neuro-Rehabilitation Research Lab.
In a welcome development, the ADI Negev-Nahalat Eran Neuro-Orthopedic Rehabilitative Hospital is nearing completion. Thanks to the support of multiple government ministries, JNF-USA and international donors, the hospital is set for completion late this year.
"Once the hospital is completed, the Negev Lab will move into its new space and become the largest and most advanced lab of its kind in Israel," says Bar-Haim.
"We are already receiving inquiries from around the world about this new lab," he adds.
While the South has lagged behind the Center in terms of medical and rehabilitative care, Bar-Haim and Doron Almog's vision does not stop at achieving parity with the Center, but, rather, aims to exceed it.
"In the age of corona, the importance of the Negev Lab is clearer than ever before. Each and every day, our rehabilitation professionals empower people of all ages, backgrounds, and levels of need, giving them a new lease on life and returning them to their families in good health and renewed spirit.
"But we can expedite this process and make it even more powerful through collaborative translational research. There are so many people hurting right now, and the groundbreaking research being done at the Negev Lab can change the face of rehabilitative care across Israel and around the world."
Please email [email protected] to learn more about the Translational Neuro-Rehabilitation Research Lab.