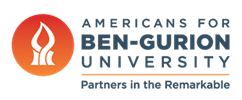 Israel Hayom: A4BGU Amplifies Relevance of Ben-Gurion
November 20, 2023
Israel Hayom — David Ben-Gurion famously stated, "The people of Israel will be tested in the Negev." According to Paula Kabalo – head of the Azrieli Center for Israel Studies as well as Ben Gurion University of the Negev's (BGU) Ben-Gurion Research Institute for the Study of Israel and Zionism – the Oct. 7 Hamas massacre makes these words more poignant than ever.
While Ben-Gurion Day is commemorated every year in Israel on the sixth of the Hebrew month Kislev, A4BGU brought it to the US last year for the first time. The initiative aims to rally Americans around a vision for 21st-century Zionism that is shaped by the pioneering spirit of David Ben-Gurion – who turned his dream of a Jewish homeland into reality and saw the Negev as the place where Israel's innovative future would emerge.
"David Ben-Gurion's vision that the future of Israel is in the Negev – a region which has been disproportionately affected by the October  7 massacre – makes our commemoration of Ben-Gurion Day in the USA even more poignant and meaningful," said Doug Seserman, CEO of A4BGU. "More so today than ever before, it is imperative that we honor Ben-Gurion's legacy and keep his dream alive. He turned his dream of a Jewish homeland into reality. Together, we will prevail to keep this vision for the future of Israel alive."
This year, more than 100 synagogues, schools, and other Jewish institutions nationwide have joined A4BGU in honoring David Ben-Gurion's timeless values, and love and passion for Israel.