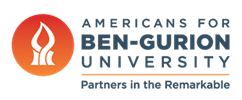 Entrepreneur & Philanthropist Donates $25 Million to BGU
March 1, 2021
American Associates, Ben-Gurion University of the Negev (Americans for Ben-Gurion University) has received the second largest single gift commitment in its history: $25 million from Silicon Valley philanthropist and entrepreneur Nahum Guzik.
The generous gift will be used for the new Guzik Cultural Center, a multi-use complex on the new North Campus of Ben-Gurion University of the Negev (BGU) in Beer-Sheva, Israel. The cultural center will feature a state-of-the-art, 900-seat music hall and auditorium, an art exhibition area highlighting prominent artists, and a new visitors' center that will welcome University guests. It will serve as the main northern entrance to the University. A large conference center will enable BGU to host national and international academic forums, business meetings and graduation ceremonies.
"The Guzik Foundation proudly supports young musicians," Guzik says. "The idea of a performing arts center on the BGU campus was on my mind for years; it's an idea I had discussed with previous BGU presidents, including my dear friend Rivka Carmi. Eventually in 2020, together with BGU President Daniel Chamovitz, we scheduled the architectural design and construction. I wish I will live to see it."
"Nahum Guzik's long-standing support has been instrumental in BGU's development. As we pass our golden jubilee, we are so pleased and honored that he is making it possible for us to build a world class performance and conference facility," says BGU President Prof. Daniel Chamovitz. "The cultural center will be an iconic space for an iconic university."
The first artist to be showcased will be Lev Syrkin, a prominent artist in both Israel and Russia and a good friend of Guzik's. They came to Israel together in 1972, and Guzik has always been there for Lev and his family. Syrkin's work will be permanently installed in the cultural center. In Israel, Syrkin's creations are dedicated to themes from the Bible, Jewish history and tradition.
"As supporters of many different BGU initiatives, this one is perhaps the most fulfilling in bringing together Nahum's devotion to supporting the arts and a critical need for the University," says Kira Makagon, Guzik Foundation trustee. "We're excited to see this project come to fruition in the years ahead."
A longtime donor to Americans for Ben-Gurion University, a previous gift established the Guzik Family Building for Biotechnology Engineering at BGU. Guzik also established distinguished academic chairs at the University of California San Francisco (UCSF) and Technion—Israel Institute of Technology in medicine and biology, and received honorary doctoral degrees from BGU and Technion for his engineering and scientific achievements with dozens of patents.
In 1996, he received the Ellis Island Medal of Honor for his sizeable contributions to the community. Besides medicine and biology, Guzik's philanthropic work has also benefited hundreds of young musicians; quite a few of them have won international classical music competitions, including the Grammy Awards. Other recipients of his generosity include the Palo Alto Medical Foundation, San Francisco Symphony, San Francisco Ballet, the Computer History Museum, and many more.
"Nahum Guzik is an inspirational innovator who realized the American dream as founder of the successful Guzik Technical Enterprises," says Doug Seserman, chief executive officer of Americans for Ben-Gurion University. "His generosity and support for BGU, culminating in this significant contribution, will help us fulfill David Ben-Gurion's dream for a world-class institution to flourish in the Negev."
Nahum Guzik was trained as an engineer in Odessa, Ukraine, where he graduated with a master's degree in radio communications. He then worked for years on defense research in Siberia and Novosibirsk. Afterward, in Moscow, he worked in video recording and was essential in developing the data recording system used by the space mission Vostok 2, when Russian cosmonaut Gherman Titov became the second human to orbit Earth in August 1961.
Subsequently, to help a friend, Guzik took an executive engineering position in a construction project outside of his professional interests, where power stations were built from prefabricated concrete in the outskirts of Moscow for a couple of years. He next did his postgraduate studies in enhanced performance television cameras based on vidicon tubes at the Research Institute of Cinematography. Then, at age 38 in 1972, he was able to emigrate to Israel, where he worked in television and video recording technologies for 10 months at a TV station in Jerusalem. Shortly after, in 1973, he moved to the United States and worked for Ampex and then Memorex. He then founded Guzik Technical Enterprises in 1982 in Mountain View, California, utilizing his experience on test equipment for magnetic data recording, and is still engaged presently as its company president.
According to Prof. Rivka Carmi, president emerita of BGU, "Nahum has had an extraordinary impact on the world with countless innovations that have helped greatly advance many types of electronics. But it is in Israel at BGU where his philanthropic legacy will be enshrined, as artists, students, visitors, and world leaders come together at the cultural center that bears his name. I am honored to have known him for so many years and count him as a treasured friend."
See article in The Jerusalem Post >>
ABOUT AMERICANS FOR BEN-GURION UNIVERSITY
By supporting a world-class academic institution that not only nurtures the Negev, but also shares its expertise locally and globally, Americans for Ben-Gurion University engages a community of Americans who are committed to improving the world. David Ben-Gurion envisioned that Israel's future would be forged in the Negev. The cutting-edge research carried out at Ben-Gurion University drives that vision by sustaining a desert Silicon Valley, with the "Stanford of the Negev" at its center. The Americans for Ben-Gurion University movement supports a 21st century unifying vision for Israel by rallying around BGU's remarkable work and role as an apolitical beacon of light in the Negev desert.
About Ben-Gurion University of the Negev
Ben-Gurion University of the Negev embraces the endless potential we have as individuals and as a commonality to adapt and to thrive in changing environments. Inspired by our location in the desert, we aim to discover, to create, and to develop solutions to dynamic challenges, to pose questions that have yet to be asked, and to push beyond the boundaries of the commonly accepted and possible.
We are proud to be a central force for inclusion, diversity and innovation in Israel, and we strive to extend the Negev's potential and our entrepreneurial spirit throughout the world. For example, the multi-disciplinary School for Sustainability and Climate Change at BGU leverages over 50 years of expertise on living and thriving in the desert into scalable solutions for people everywhere.
BGU at a glance:  
20,000 students | 800 senior faculty | 3 campuses | 6 faculties: humanities & social sciences, health sciences, engineering sciences, natural sciences, business & management, and desert research.
For all press inquiries, please contact:
James Fattal, J Cubed Communications
516.289.1496