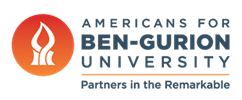 Americans for Ben-Gurion University Mourns the Passing of Philanthropist Alexander Goren
February 23, 2021
American Associates, Ben-Gurion University of the Negev (Americans for Ben-Gurion University) mourns the passing of philanthropist and finance executive Alexander M. Goren. He was 81.
The Goldstein-Goren family was one of the first to support the University in its infancy.  Actively involved with Americans for Ben-Gurion University for the last 50 years, Mr. Goren served as the former chairman of BGU's board of governors, former president of Americans for Ben-Gurion University, and was a recipient of a BGU honorary doctorate in 2015. Alex's son, Andrea, was a member of the first cohort of Americans for Ben-Gurion University's Zin Fellows Leadership Program and currently serves as Americans for Ben-Gurion University's treasurer.
"On behalf of all of us at Americans for Ben-Gurion University, we extend our deepest sympathies to the Goren family. Alex's passing is a tremendous loss for us all," said Doug Seserman, chief executive officer, American Associates, Ben-Gurion University of the Negev. "An inspirational leader, philanthropist, and an overall great human being, I always thought of Alex as a Renaissance man with a generous spirit. Alex played a formidable role in BGU's incredible transformation over the last 50 years and he will be deeply missed."
"Alex Goren was first and foremost a mensch. He was always willing to step up, always there to be counted upon," said Ben-Gurion University President Prof. Daniel Chamovitz, "He was a part of the BGU family from the University's inception. In fact, he and his family were among its very first supporters. We will all miss him and are grateful that a third generation of the Goldstein-Goren family is already deeply involved with the University," Chamovitz added.
Over the years, the Cukier, Goldstein-Goren Foundation has established a scholarship endowment, the Goldstein-Goren Department of Jewish Thought, the Goldstein-Goren International Center for Jewish Thought, and the Avram and Stella Goldstein-Goren Department of Biotechnology Engineering. The Goldstein-Goren Family is a member of BGU's esteemed President's Pillars Society.
He is survived by his wife, Brooke W. Kroeger, their three children and seven grandchildren.
ABOUT AMERICANS FOR BEN-GURION UNIVERSITY
By supporting a world-class academic institution that not only nurtures the Negev, but also shares its expertise locally and globally, Americans for Ben-Gurion University engages a community of Americans who are committed to improving the world. David Ben-Gurion envisioned that Israel's future would be forged in the Negev. The cutting-edge research carried out at Ben-Gurion University drives that vision by sustaining a desert Silicon Valley, with the "Stanford of the Negev" at its center. The Americans for Ben-Gurion University movement supports a 21st century unifying vision for Israel by rallying around BGU's remarkable work and role as an apolitical beacon of light in the Negev desert.
About Ben-Gurion University of the Negev
Ben-Gurion University of the Negev embraces the endless potential we have as individuals and as a commonality to adapt and to thrive in changing environments. Inspired by our location in the desert, we aim to discover, to create, and to develop solutions to dynamic challenges, to pose questions that have yet to be asked, and to push beyond the boundaries of the commonly accepted and possible.
We are proud to be a central force for inclusion, diversity and innovation in Israel, and we strive to extend the Negev's potential and our entrepreneurial spirit throughout the world. For example, the multi-disciplinary School for Sustainability and Climate Change at BGU leverages over 50 years of expertise on living and thriving in the desert into scalable solutions for people everywhere.
BGU at a glance:  
20,000 students | 800 senior faculty | 3 campuses | 6 faculties: humanities & social sciences, health sciences, engineering sciences, natural sciences, business & management, and desert research.
For all press inquiries, please contact:
James Fattal, J Cubed Communications
516.289.1496