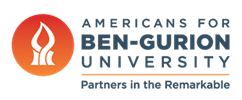 Great Miracles Happen at BGU
December 7, 2015
Happy Chanukah from All of Us at American Associates, Ben-Gurion University of the Negev
Chanukah celebrates the victory of the Jewish people over a mighty oppressor, and the miracle that occurred when a day's worth of oil used to rededicate the Temple lasted eight days. Great miracles – in the form of groundbreaking research and innovations – are happening every day at BGU. Here is one example for each of the eight nights of the festival of lights:
1. Combining Oil and Vinegar – Working with BGU Prof. Harold Vinegar, BGU students are providing scientific analysis and support for an oil drilling program in the Golan Heights.
2. Solving the World's Water Crises – Experts from BGU's Zuckerberg Institute for Water Research are helping officials in drought-stricken California manage and use water resources more efficiently.

3. Discovering How Wine Can Help Diabetics – Prof. Iris Shai has found that a nightly glass of red wine improves heart health of those with type 2 diabetes, and both red and white wine may help control blood sugar.
4. Creating International Ambassadors for Israel – Students from all over the world are studying the history of Israel and the impact of the Zionist movement on nation-building and contemporary Israeli society.
5. Protecting Israel's Borders – Researchers are developing autonomous vehicles to protect soldiers and police officers, new cyber technologies are keeping Israel's virtual borders safe, and microsatellites are being invented to detect imminent threats before they are perpetrated.

6. Preventing School Shootings – Prof. Yair Neuman developed a writing analysis tool that may help identify potential school shooters.
7. Understanding the Brain and Curing Its Disorders – Neuroscientists developed a diagnostic to predict brain disease in football players early enough to prevent it and the treatment to reverse the damage. This could lead to the prevention of trauma-induced Parkinson's or epilepsy.

8. Inventing Robots to Help Humanity – Robots developed at BGU are being used in surgery, in search and rescue, and in agriculture. They are spraying and picking crops, climbing walls, crawling through rubble, and protecting Israel's borders. Wearable robots are harvesting energy from human movement.
All of these miracles are made possible by the generous support of friends like you. Please consider making a donation to Americans for Ben-Gurion University before December 31 to receive a 2015 tax deduction.